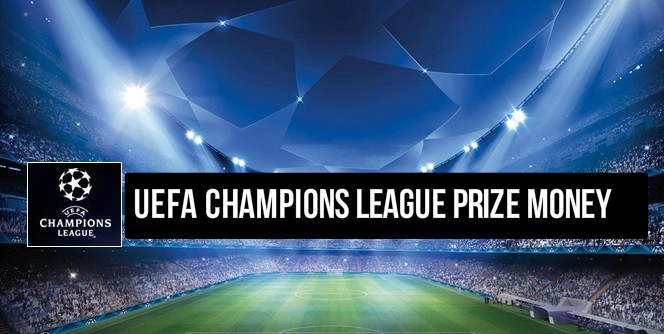 Please click on the image below to zoomin
About Us-Contact Us-Sports Calendar-Privacy-Write For Us
Argentina World Cup Matches Live Stream Online
POT 1: UEFA Champions League 2017-18 Fixed Amount Distribution
CONGRATULATION MY SECOND BEST TEAM IN THE WORLD
So how does the distribution of €1.3189 billion works among Champions League participant and teams who play in Champions League qualifiers but fail to reach group stages. The total prize money pool (€1.3189 billion) is divided into two portions.
List of English Premier League Winners Since 1992
from Fixed Amount pot. Plus Market pool money which can easily elevate total earnings of winners from England, Spain, Germay or Italy around
Liverpool will get around €31.6 million in market pool plus €56.2m in performance based making grand total of €87.8 million if they manage to win the champions league and €83.3 million if they lose the final
Most Successful Clubs In English Football History (Only Major Trophies)
All-Time Leading Goal Scorers In FIFA World Cup History
The scary moment of the UCL final match between Barca/Juve was when Luis Suarez gave Mitchel Platini a hug , I was so nervous not see Platini screaming at the top of his voice for help !!!!
Real Madrid vs Liverpool 2018 Champions League Final Match Highlights
€50 million distributed to 20 teams who participated in playoffs. €2m each for playoff winners and €3 million each for eliminated teams.
3 days have passed, and no one found your comment funny. EISH!
So the Market Pool given out to other low ranked leagues like Ukraine, Russia etc is much lower so the clubs from those countries get less money even if they over achieve and qualify for the later stages of the champions League.
If FC Basel were to win the Champions League they wont make as much as Real Madrid or Barcelona did in the last couple of years. Why ? because of the market value of the team. Teams coming from top 4 European Leagues get the bigger chunk of the market pool.
UEFA has announced several major changes ahead of the 2017-18 Champions League season and that includes increase in prize money plus 15% increase in TV market share for premier league teams. We take a in-depth look at how UEFA distribute champions league revenue among teams across whole Europe.
List Of Ballon dOr Winners Since 1956 To 2018
If you think about it the most amount of games a premier league team can play in the champions league is 15 games some even 13 compare that to the 38 games you play in the premier league
10 Footballers Who Own Expensive Private Jets
for every win & €500,000 for every draw in group stages
How much Real Madrid and Liverpool are expected to earned for their 2017-18 Champions League run ?
(for winning 4 group games and drawing 1)
Winner of 2017-18 champions league can earn between
Brazil World Cup Matches Live Stream
Portugal World Cup 2018 Matches Live Stream
32 Hottest Wags Going To FIFA World Cup 2018 (At Least 1 From Every Participating Country)
We worn and it is the most important thing.Let haters nurse thier anger.
From remaining €1.86 billion another 8% is reserved by UEFA for European football and remain with UEFA. The rest €1.7187 billion is used to distribute among clubs in both Champions league and Europa League. For 2017-18 season €1.3189 billion is allocated for Champions League pot and €399.8 million for Europa League.
How To Watch FIFA World Cup 2018 Live Online Free
Juventus on the other hand got massive €58.20 million from market pool money because only them and AS Roma from Italy played in the group stages and Roma knocked out in group stages leaving Juventus with huge portion.
(for winning 3 group games + 3 Draws)
Premier league is the biggest league in the world. Even better than champions league but according to the name champions league it suppos to be the richest league. But, why is premier league more money than champions league?
Worlds 15 Most Successful Clubs In Terms Of Trophies Won (Revealed)
Following table shows how all the 32 participating teams were paid in prize money, performance bonus and market pool money.
Germany World Cup Matches Live Stream
Every League (not teams) gets specific market pool money according to the UEFA Ranking of European Leagues, and for example last season from Spain Atletico Madrid, Barcelona, Real Madrid and Real Sociedad played in group stages so the total market pool for spain was shared between four teams. Where Barcelona got €24.6 million, Real Madrid €20 million, Atletico got €17 million and Real Sociedad got €8.5 million in market pool money.
€12.7 million + €2m for qualifying through playoffs
Real Madrid will earn around €35.3 million in market pool money plus €55.7m in performance based money if they win the 2018 final elevating their total to a massive €90.8 million.
. Part of UEFAs TV income which is distributed according to which league the team comes from and number of matches played by a team in 2016-17 Champions League season.
English clubs will benefit the most with the new Market Pool distribution system and If an english club were to win the champions league in 2017-18 season they will earn more than €110 million (around €55m from performance based + another €50m/€60m with market pool).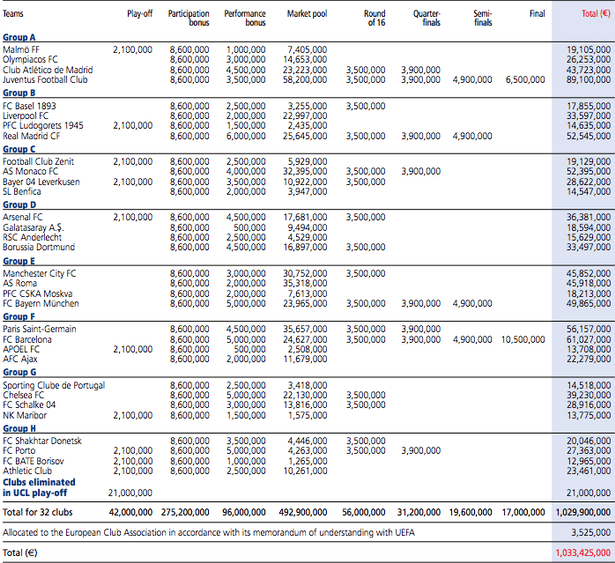 FIFA World Cup 2018 Live Stream (All Matches Online Free)
Top 10 Greatest FIFA World Cup Matches Of All Times
UEFA has announced €507 million in market pool money for each of the next three champions league seasons. Which will be distributed according proportional value of each TV market (Country/League). So the market pool awarded to each countrys league will be distributed among the teams from that league according to their performance in previous league season and how many matches they will play in the given champions league season.
Hottest Female Sports Referees in World 2018 (Currently Active)
Real Madrid are playing Juventus in the final of 2018 Champions League, looking to retain the title and set to pocket around €89.5 million from their 2017-18 european campaign. While Juventus will be making around €101.1 million more than Madrid because of bigger chunk of italian market pool money going Juventus way.
FIFA World Cup 2018 Opening Ceremony Details Performers (Revealed)
2017-18 Prize Money Fund:UEFA Champions League is by far the highest prize money paying competition in the world, yeah thats right even more than Football World Cup and for 2017-18 season we see another 10% increase compared to 2015-16 season where €1.257 billion was distributed among teams in champions league from playoffs to the winners. We take a look at this years champions league funds and how they will be distributed.
(Guaranteed) for each 32 teams who play in the group stages
Distribution system explained:The estimated yearly gross revenue from all UEFA competitions (Champions League, Europa League, UEFA Super Cup) is centralized and placed in 1 pot. UEFA estimates around €2.35 billion to be generated in 2017-18. From central pot 12% (€282m) is deducted by UEFA for Admin and competition costs another 8% (€199.7m) is used as solidarity payments to clubs and national FAs.
England vs Costa Rica Live Stream (WC Warm-up Friendly Match)
5 High Profile Doping Cases in Tennis (Drug Scandals)
Premier league is more conpetitiful.
awarded according to how the teams finished and performance related bonuses.
UEFA has announced the prize money pool for 2017-18 Champions League season and around €1.3 billion will be distributed among Champions League participants from qualifying rounds to the final. Last year Real Madrid beat Juventus in the Final of 2017 Champions League to retain the title but it was Juventus who took home bigger chunk of Prize Money. Real Madrid made around €89.5 million (thats €54.2m in performance based money and another €35.3m in market pool) While Juventus pocketed €101.1 million ($50.6m in market pool and another €51.1m performance based). Below is the entire breakdown and explanation on how UEFA distribute Champions League tv money.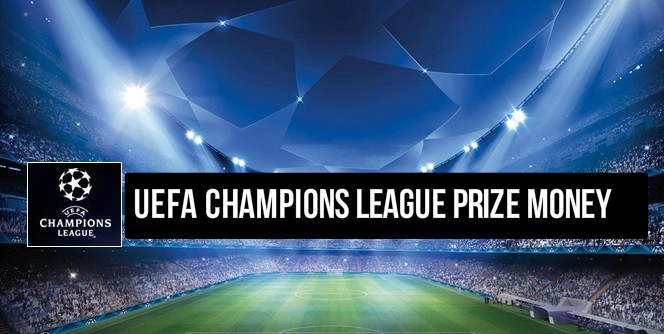 Top 10 Most Memorable Comeback Wins in European Football
so the premiership now pays much more than the champions league.. an by that i mean, even if u get relegated