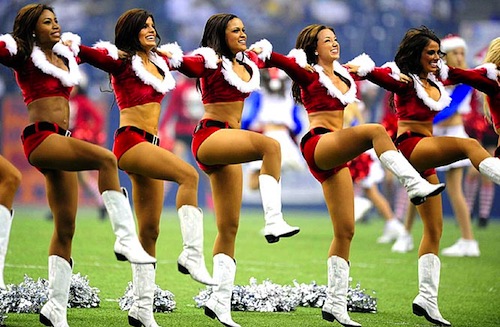 Wed have done a countdown of the20 bestChristmas cheerleader uniforms, but not all squads have them. Heck, not allteamshave cheerleaders. (Please, if you live in Chicago, Detroit, Green Bay, Pittsburgh, Cleveland, or New York, write your member of Congress.) So we did the best with what weve got. I think youll like it.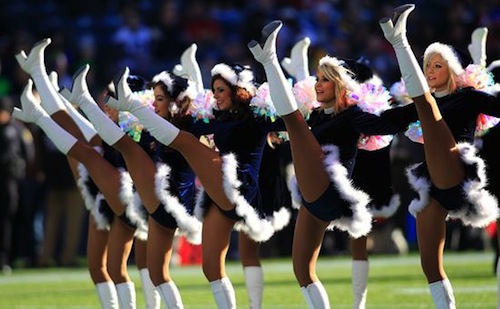 We all got a good look at the Titans cheerleaders Christmas uniforms last week, thanks to that video ofSanta proposingto a cheerleader that went viral. And while Im not sure how Christmasy they really are (outside the hat, of course), theyre pretty damn hot. So they make the cut.
You knew the Dallas Cowboys Cheerleaders would come up with super hot Christmas uniforms, didnt you? They arent the worlds most famous cheerleading squad for nothing. My only complaint would be that the cowgirl boots dont really seem to go with the rest of the outfit, which isnt very cowgirly. But really, who cares?
You know who loves sexy Mrs. Clause bikinis? Everyone. And the Texans Cheerleaders know it.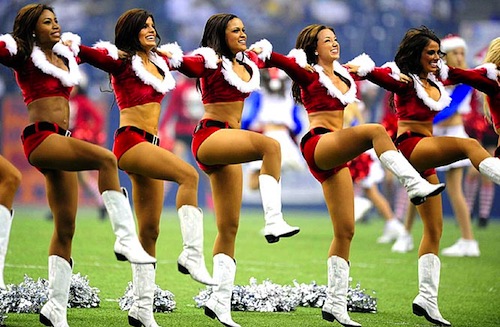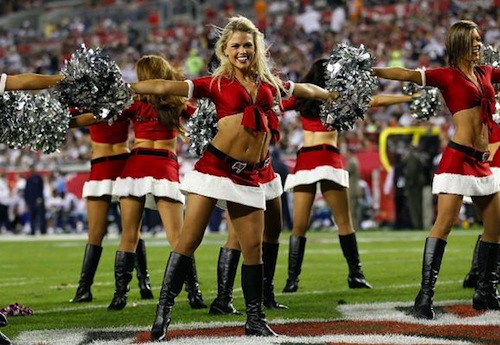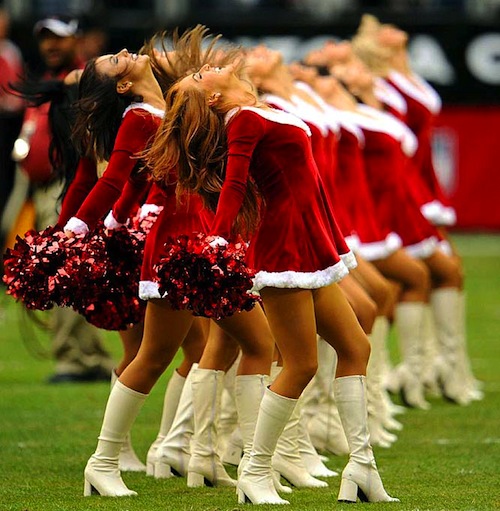 The Arizona Cardinals Cheerleaders didnt try to think outside the box when designing their Christmas uniformsand it was a smart move. You cant go wrong with sexy red velvet dresses with plunging necklines. And hey, what do you know…white knee-high boots. (Did the NFL recently buy stock in a company that specializes in making white boots?)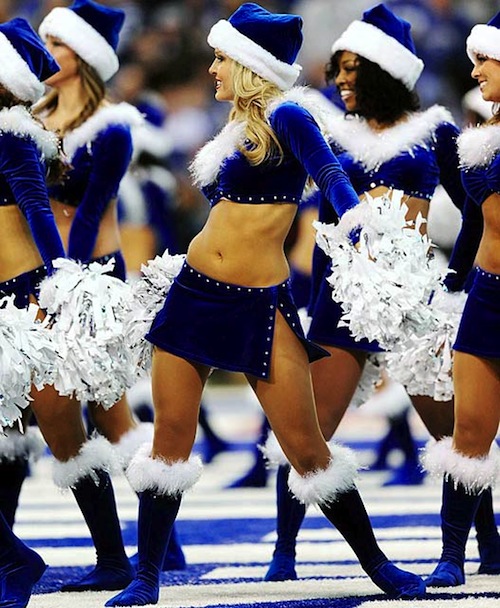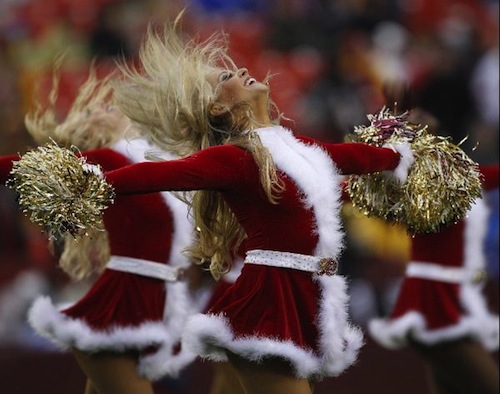 Writer for Total Pro Sports SinceJuly 11, 2011
Christmas is right around the corner, and you know what that means: NFL cheerleading squads have busted out the Christmas themed uniforms. And not a moment too soon, because I think we were all getting pretty tired of looking at gorgeouscheerleadersin everyday skimpy outfits, werent we?
Okay, we werentreallytired of the regular skimpy outfits. But we do really like the skimpy Christmas ones, too. So today were going to try to try to get everyone in the Christmas spirit with a countdown of the 15 best Christmas-themed cheerleader uniforms in the NFL.
The New Jersey-based Jets were clearly going for the 1970s hooker look with these Christmas outfits. But you know what? I think it works. However, I must say the ladies do look a little chilly. Maybe they should have invested a little more cash in some warmer fabric.
I like the sparkly fabric. I like the hat. I like the blue. So, all in all, Im a fan of the Jaguars cheerleaders subtle Christmas uniforms. Then again, it might be what they dointhe uniforms thats so appealing.
The St. Louis Rams Cheerleaders show that just because its Christmas, that doesnt mean you cant wear scandalously skimpy outfits. While Im sure most red-blooded males approve, theyd better be careful or they could end up on Santasnaughty list.
I would have been skeptical if someone pitched me an idea for a black Christmas cheerleading uniform. I mean, black for Christmas? Come on, no way.
The Christmas uniforms of the Denver Broncos Cheerleaders are very similar to those of other squads on this list (like s 11, 8, and 6). What sets them apart, however, are the white cowboy hats. Theyre a nice touch.
The 1 Christmas-themed cheerleading uniform in the NFL belongs to the Tampa Bay Buccaneers. Why? Because crop tops, short skirts, and black knee-high boots are always a winning combination. Could they use some festive headgear? Yeah, maybe. But lets not nitpick.
But I would have been wrong. The Raiderettes really hit a home run with these cute and subtly sexy uniforms.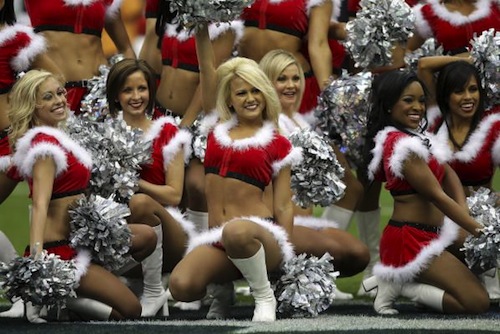 Cheerleaders, Dallas Cowboys Cheerleaders, hot chicks, hottest cheerleaders, NFL, Tampa Bay Buccaneers,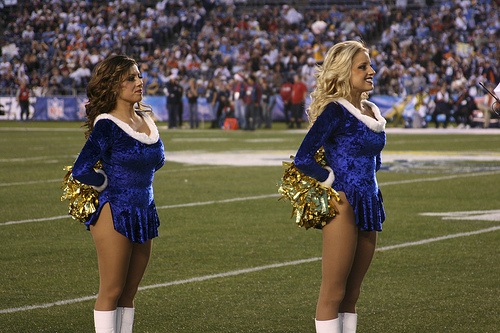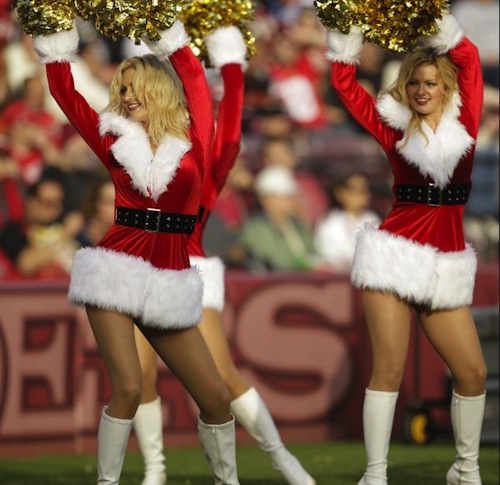 The Redskins Cheerleaders have the best of the traditional red-and-white Santa suit uniforms. So what makes them better than the others? Honestly, I dont know.
30 Sports Logos With Hidden Images and Meanings
That being said, what is the deal with the white knee-high boots? 10 out of the 15 squads on this list have them as part of their Christmas unis. Its a little boring isnt it?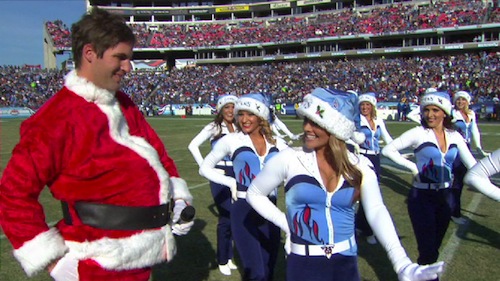 The 49ers Gold Rush cheerleading squad prove that you cant go wrong with a classic look. Especially when that look entails wearing a jacket like a skirt.
Coming in at 4 is yet another squad that thought outside the box in designing their Christmas uniforms. The Seattle Sea Gals went with short navy blue dresses with white fuzzy trim and the obligatory white boots. Since the uniforms were obviously inspired by the famous Radio City Music Hall Rockettes, the squad was wise to perform a Rockettes-style dance number.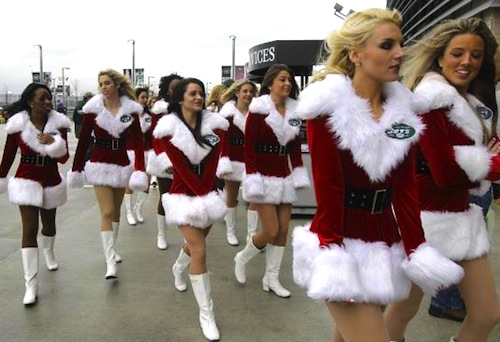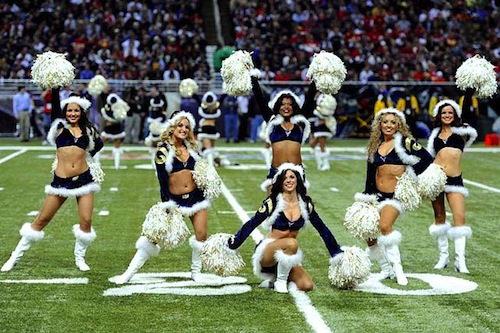 The Colts Cheerleaders decided to leave the traditional Christmas colors behind, but they kept the velvety fabric, the fuzzy trim, and the Santa hats. Its a nice compromise between traditional and modern. I particularly like the fact that they went in a different direction than most squads when it came to choosing footwearit makes them stand out. Also, they show a little skin, but not so much that they make you feel dirty just by watching them. Thats calledbalance.
Well, okay, maybe theyre a little tighter. And that Redskins belt buckle is pretty cool.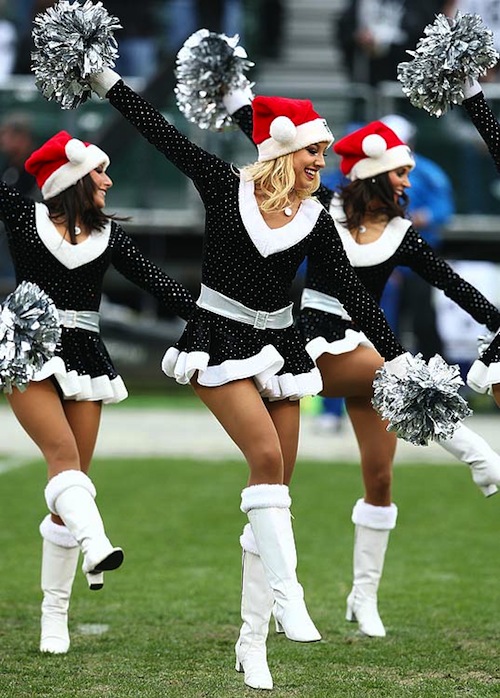 1. Tampa Bay Buccaneers Cheerleaders
I have to say, this is a pretty weak effort by the Charger Girls. You can barely tell this is, in fact, a special edition Holiday Uniform. Sure, the outfit is velvety and has some poofy trim on the collar, but they could really use to complete the look. I mean, at least theytried, but just barely.