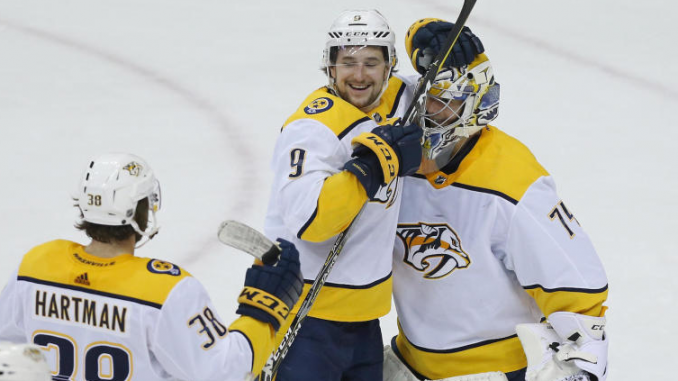 NHL Playoffs 2018: One reason to root against every team in the Stanley Cup playoffs . Eagles. Villanova. Flyers? A third championship for Philadelphia this year will just leave the city in ruins — although that could be considered a plus, depending on who you ask. Regardless, the prospect of a deep Flyers run (and possibly a deep Sixers run on top of that) is just too much success too fast for Philly. Are you ready to live in a world where the people of Philadelphia have that kind of power?
The Golden Knights have already seen historic, completely unexpected levels of success in their inaugural season. They won a division title and have been a ton of fun to watch. But, again, its their very first season. They havent paid their dues. They havent experienced the heartbreak the can come with playoff hockey yet, and those experiences are needed to fully appreciate what it means to raise the Cup. Other teams and their fans have fought for it for decades and still have never reached that peak. Do you realize how many people would be furious if Vegas just showed up and won it all in the first year? Wait, Im starting to talk myself into this one…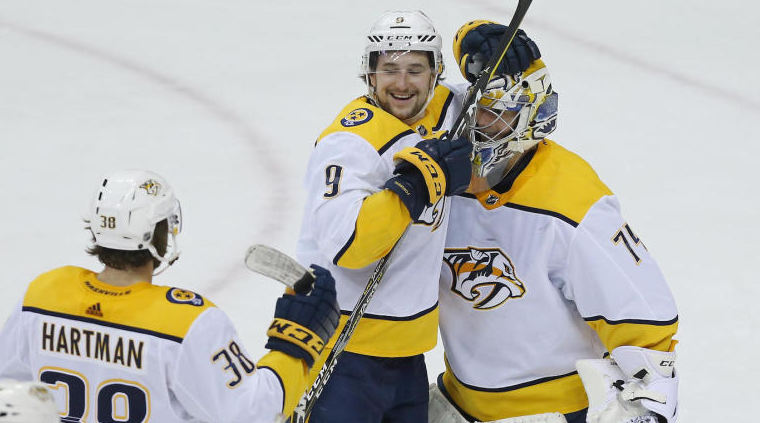 Remember back in January when a couple of Sharks players said that Winnipeg was their least favorite NHL city because it was dark and cold and the WiFi was bad? Im not totally sure any of those things are inaccurate, but Winnipeg got very mad and it led to one of the dumbest controversies of this NHL season. As such, I give everyone permission to root for the Sharks in the first two rounds, just for the sole purpose of a potential Jets-Sharks Western Conference Final. Then we all root for Winnipeg to get awesome WiFi and brag about it relentlessly for seven games.
How many times have you been forced to listen to Thunder by Imagine Dragons this year? Whether its on the radio, at a sporting event, or an unexpected Thundering online — the answer is probably at least one million times. Well, if the Lightning make the deep run theyre expected to make, be prepared to hear that song, which is basically their damn theme song, and be prepared to hear it approximately one million more times. They already got their big win with Patrick Reeds victory atthe Masters. The Dragons have already been imagined.
If youre on the fence about where your allegiances should lie, then consider yourself blessed because Im here to tell you which teams to avoid. (Spoiler: Its all of them!) Surprisingly, there are a number of very likable teams in this years bracket, which really leaves a miserable hater like me in a tough spot.
So what side should you back? And where does the value lie? VisitSportsLine to get NHL odds and picks for every Stanley Cup Playoff game, all from the advanced computer model on a red-hot 21-8NHLrun.
The Stanley Cup playoffs are here, meaning one of the most gloriously intense postseasons in all of sports is upon us. Theres a good chance you know which of the 16 teams youre going to be rooting for this spring, but Im here to spoil your fun and tell you why youre wrong. Unless, of course, youre looking forone reason to root for every team.
The Preds are stacked and they won the Presidents Trophy as the leagues top regular season team this year. They made a strong run to the Stanley Cup Final last year and theyre even better this year, so its no surprise that a ton of people have them as their pick to win it all. If youre the kind of person who just likes to watch the world burn, sit back and root for a crushing Nashville loss to destroy plenty of brackets.
The Leafs areeverythingin Toronto, and they havent won in over 50 years. Not only have they not won, theyve found excruciating ways to lose. Its just too damn tempting not to root for another heartbreak to see how it will collectively crush the spirit of an entire city whose happiness hinges on one thing. Does that make me a bad person? Probably, but I just cant afford to lose those jokes at Torontos expense. Plus, if this team doesnt have its playoff issues, well never get a hit piece revealing what kind of junk foodAuston Matthewslikes to eat on his way to the arena.
Imagine being the guy who complained his way out of Colorado because he wanted to be on a good team, only to get traded to theOttawa Senators? In a three-team trade with thePredators, no less? Talk about your all-time backfires. You reap what you sow, but just know that a deep run from the Avalanche might actually destroy Duchenes soul. Youll have to decide if you can live with that on your conscience.
Thats right, folks….Ryan Getzlaf,Ryan KeslerandCorey Perryare still Ducks, and if thats not enough to make you root against them…well, youre probably from Anaheim or thereabout. For better or for worse, those guys know how to get under the skin of opponents, especially when it comes time for the postseason. Theyll show up to the arena in a car with doors that go like this (where my Russ Hanneman people at?) and youll just think to yourself, Man, I hate that guy. And you do. Also, those uniforms…they suck.
Listen, I like the Wilds roster and Minnesota is one of the best hockey states in America. But holy hell this team is boring and unspectacular. Theres nothing to hate, but theres not much to love either. I sat here staring at a screen for a minimum of 30 minutes just trying to think of something mean or snarky to say about them, and this is literally the best Ive got. Thats reason enough to not root for them.
Every time the Kings make a deep playoff run, were all subjected to a bunch of celebrities (and celebrities) being shoved down our throats on national television broadcasts. Listen, I love Tom Hanks as much as the next guy, but I dont need a constant reminder that his son and some guy from one season of Gossip Girl are really loving all this hockey! The only celebrity hockey fan I care about is Cuba Gooding Jr. because that guy is as likely to lose his mind as John Tortorella.
The more the Blue Jackets lose, the better the chances we get to see Coach Torts fly off the handle and turn into an absolute madman — one of the most entertaining and pure spectacles in all of hockey. The memories of a Stanley Cup run will obviously be great for the city of Columbus, but the memories of a historic Torts meltdown will be great for everyone else. Dont be selfish and ruin things for the rest of us.
Nobody outside of Boston fans roots for Boston to win anything anymore, but its particularly easy to root against the Bruins because of Marchand. While Marchand is a highly-skilled, highly-productive member of the Bruins top line, hes also one of the leagues most notorious pests and turd-stirrers. Hes the definition of a guy you love to root against.
TheOilerscarried so much momentum and promise into this season…and then this season actually happened. Edmonton fans have already been forced to come to grips with the fact that their team stinks again, all the while watchingTaylor Hallput together a Hart-worthy campaign in New Jersey. Now you want to make them watch Hall almost single-handedly lead the Devils on a deep playoff run? You want them to log onto Twitter and see the trade is one-for-one retweeted onto their timeline over and over and over again? That is pure evil, and I have no choice but to respect it.