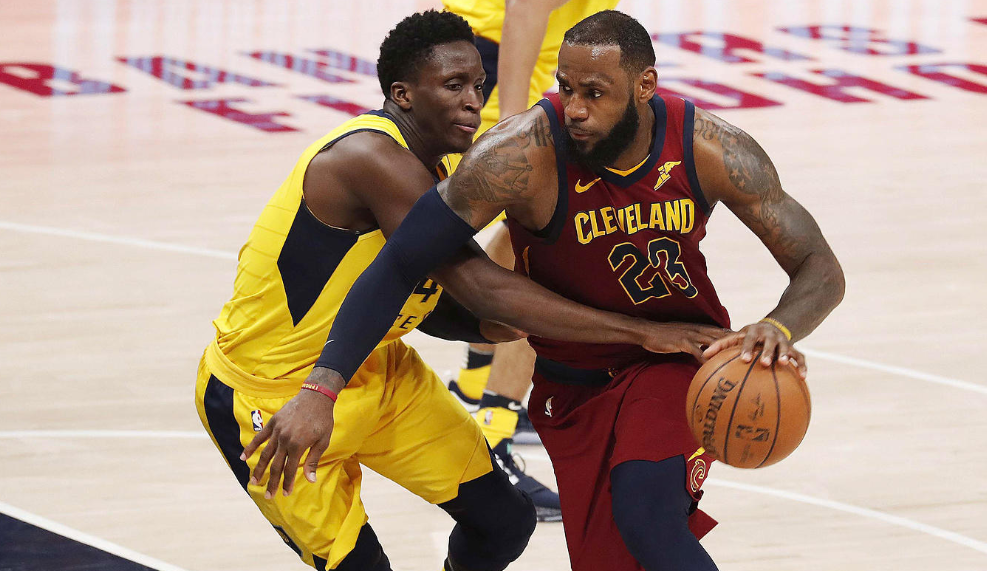 LaMarcus Aldridge came through for San Antonio in a big way. Not only did he score 22 points and pull down 10 rebounds, but he spaced the floor with three triples. One of them was this insane buzzer-beater off the glass with Draymond Green all over him.
Antetokounmpo wasnt the only one who stepped up. Giannis and Jabari Parker were both phenomenal in Game 4 and the two teamed up for a pretty cool highlight dunk:
The NBA playoffs shifted into another gear Sunday and the Cavaliers somehow kicked it up even further. The Cavs-Pacers slugfest stole the show with a wild game that featured a confusing finish. The Bucks held off the Celtics to even up their series at 2-2. The Warriors failed to close out the Spurs in San Antonio and will have to head back home for a Game 5. The Raptors ran out of gas in a horrible Game 4 loss to the Wizards, knotting up the series at two games apiece. It was certainly a wild night in theNBA.
The Pacers fought back as they slowly solved Clevelands aggressive trap defense. Cleveland overpursued and it left wide open lanes for players like Thaddeus Young to get to the rim.
Of course, the real star of the show was Manu Ginobili. The 40-year-old is known for his big moments and he had one more in what could be the final home game of his storied career. Ginobili helped hold off the Warriors comeback attempt by scoring 10 of his 13 points in the fourth quarter.
In the middle of a heated game, Bradley Beal fouled out with five minutes left in the game on a controversial call.
The fourth quarter was a back-and-forth affair, but Kyle Korver came up with some huge shots to give the Cavs a necessary lead. He couldnt miss from deep.
Indiana and win a pivotal Game 4 behind 32 PTS, 13 REB, 7 AST from LeBron James!
James has been through plenty of difficult losses, but this one stands out in his mind
Heres how to watch every NBA postseason game online or on TV
Images by Getty Images and US Presswire
The Cavs once again showed up to Indiana in matching suits. This time theyre all in black after wearinggray in Game 3. The results for their last suit game didnt pan out very well. This time however things swung in their favor.
The Spurs will hold one for at least one more game. They came out on a mission and blitzed the Warriors from 3-point range in Game 4. They hit them early and often to establish a lead against the defending champs that was never erased.
The Cavaliers jumped off to a tremendous run early on. LeBron James had 23 of his 32 points in the first half alone. He was clearly the deciding factor. Unlike previous games, he did get some decent help from his role players, including this ridiculous shot from J.R. Smith at the first-quarter buzzer:
The Greek Freak came up when the Bucks needed him most at every occasion. Whether it was dunking on Al Horford, or tipping in the eventual game-winner, Antetokounmpo carried Milwaukee in the end.
Every point — even Smiths buzzer-beater in the first quarter — mattered in this one, as the Cavs held on to a 104-100 win. The series is tied at two games apiece and it shifts back to Cleveland for Game 5.