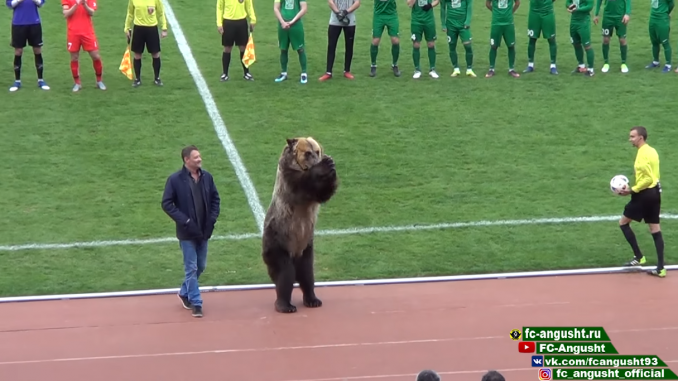 Russia, apparently, is on an entirely different level when it comes to soccer. In a third division match between Mashuk-KMV vs. FC Aungusht, a freaking real bear was used to hand the ball to the referee. This isnt a joke. A real bear, a massive, scary yet cute creature, handed the ref to the ball and also started clapping. Take a look:
There were eight games on Wednesday and a boatload of goals
Two late United goals gave them a shocking result
A bear helped start match in Russia and we can only hope we see this at the 2018 World Cup
Champions League group stage schedule
For news, stories, results and more, follow us:
Ronaldos first UCL goal with Juventus was a memorable one
Ronaldo scores stunner against United
A bear on a soccer field makes no sense but its pretty cool
And if that bear looks a bit familiar, he kind of reminds me of the bear from the movie Semi-Pro.
Real Madrid could finally be turning the corner
A bear helped start match in Russia and we can only hope we see this at the 2018 World Cup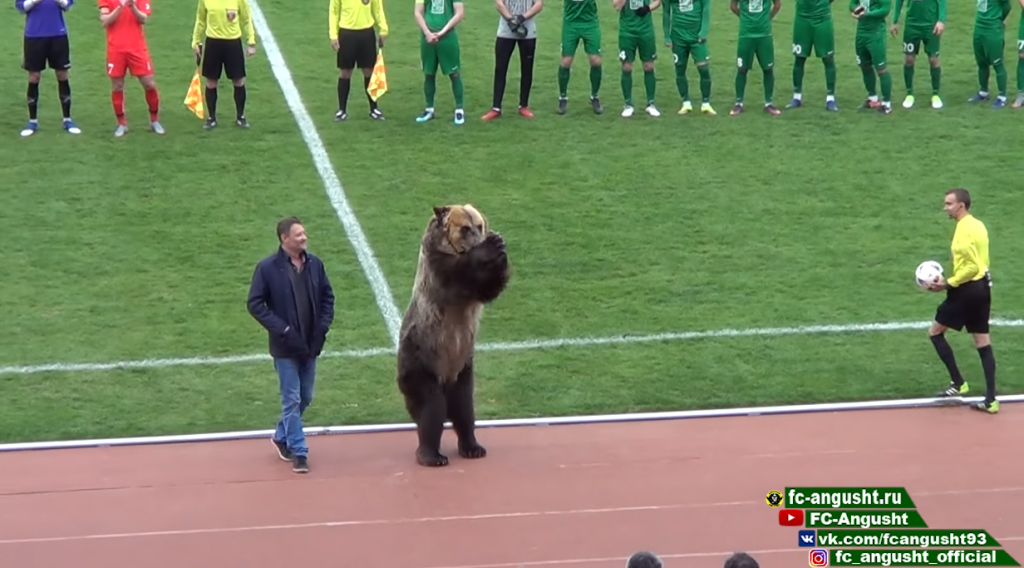 Real Madrid rolls vs. Viktoria Plzen
Gianni Infantino isnt happy with the idea of this potential new league
What is going on in the world? I mean, this is awesome visually but who thought this was a good idea? I dont care who thinks this is safe because the bear is trained.Did we not learn anything after that Mastiff bit that Denver news anchor in the face? Not to mention this is not obviously a bears natural environment and could border on the line of animal abuse.
In the end, this has to be the craziest thing you see all day. And this cant settle well with Russia president Vladimir Putin. You just know hes going to have to upstage this at the 2018 World Cup, but how? I think it will be with him being named to the final roster for the Russia national team or having this bear be part of the opening ceremonies with a Russia jersey on.
Stay up on allthe action from the World Cupwith news, scores, standings and more
Man, this World Cup is going to be bonkers.
FIFA addresses potential super league
Here is when all of the group stage games will be played
Roger Gonzalez is an award-winning writer based in Virginia that has covered pro soccer from Europes top clubs to Argentinas first division. Roger started out his pro soccer writing career with …Full Bio