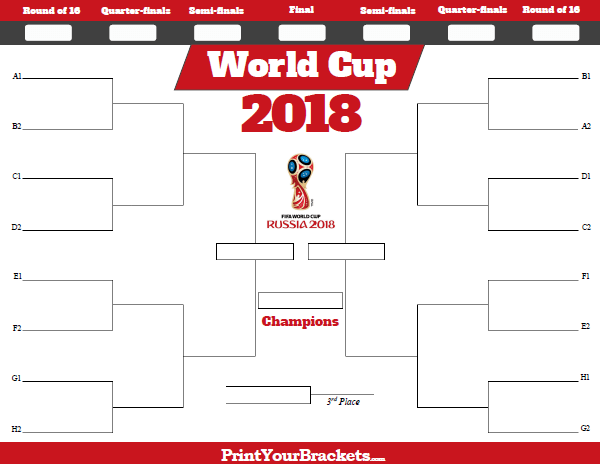 Distribute the bracket to family, friends, and coworkers having them fill out the bracket with they teams they think will advance through the bracket. Be sure all brackets are turned in before the first game.
The first stage being the group stage or the qualifying stage. The teams are broken up into 8 groups/pools lettered A through H, with each one of the groups having 4 teams. Each group will play aRound Robin Tournament, which simply means each team in a group will play the other 3 teams in that group 1 time. Here is the2018 World Cup Group Stage Schedule.
The second stage is the knockout tournament also known as asingle elimination tournament. Only the top 2 teams from each group advance to the knockout tournament. Similar to aMarch Madness Bracket, if you win, you advance, if you lose you are eliminated.
Once the group stage is complete we will update this bracket with the teams that have advanced. This pool can be ran exactly like aMarch Madness Bracket Pool.
You can also include the 3rd place game for some bonus points!
Click here for the Womens World Cup Bracket
There is also a consolation game to decide 3rd and 4th place. For dates and schedule of the tournament check outWhen does the World Cup Startarticle.
There should be a tie-breaker in place, in case two or more participants have the same point total at the end of the tournament. For this pool I like to use the total goals scored in the entire tournament.
The FIFA World Cup tournament is played every four years and is made up of 32 teams from all around the world. The tournament is broken up into two different stages:
FIFA World Cup Tournament Bracket 2018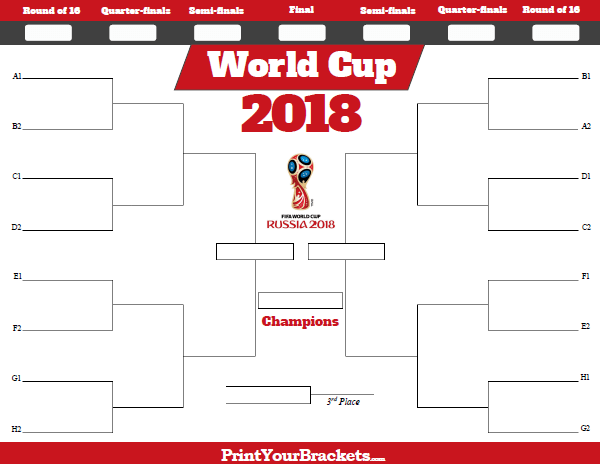 Click to Try our Fillable World Cup Bracket
Click Here for the 2018 World Cup Group Schedule
For other unique office pools try ourWorld Cup 100 Square Grid, ourWorld Cup Tournament Squares Pool, ourWorld Cup Survivor Pooland ourWorld Cup Confidence Pool.
There are 4 rounds to the tournament, so begin be creating a scoring system. Something along the lines of: