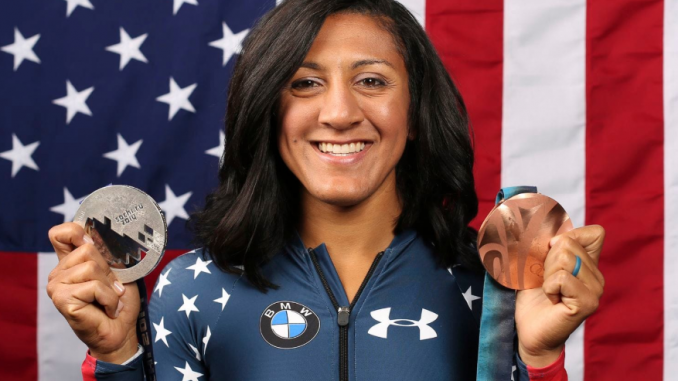 The difference for Meyers Taylor, though, is apparent in that soup delivery. Nic Taylor is an athlete in his own right, a pusher who qualified as an alternate for the Olympics. And as of 2014, he is also husband to the former Elana Meyers.
We have a storage unit, Meyers Taylor said. That, for now, is in Colorado Springs, home to the USA Bobsled and Skeleton Federation. Its contents: their bed, their wedding gifts, their lives on hold for their sport. Humphries, Meyers Taylors rival and friend, gave the couple a Caf Barista espresso maker as a wedding present. They have never used it.
Meyers Taylor said this last week during a stop in Washington for the entire bobsled team, an opportunity to rub elbows and share hors doeuvres with donors who had contributed to their cause. She and her teammates had just left Germany and the European leg of the World Cup tour. They were en route to Chula Vista, Calif., where the group will train before departing Thursday for South Korea. Meyers Taylors competition wont be until Feb. 20-21, late in the Olympics. There is time to kill, time to get over her cough and cold.
The gold medal contender sat on a cushy chair in a Washington hotel lobby, sucking on a cough drop to soothe her aching throat. Out of nowhere, almost as if by instinct, a figure appeared bearing a cup of soup.
Hes trying to be as supportive of me as possible and at the same time trying to do what he needs to do, Meyers Taylor said. Being an Olympic alternate, its incredible just to have that experience. But at the same time, I think its going to be a huge asset for me to have him at the Games alongside the entire time.
The use of we there is hardly accidental. Meyers Taylors on-ice team in PyeongChang will be Lauren Gibbs, a 33-year-old brakeman who will experience her first Olympics. But its clear her most important teammate is Taylor who, despite the introduction of a mixed-gender team in the Olympic bobsled schedule, wont be anywhere near the starting gate on race day. They will not room together in the Athletes Village; that will be reserved for Gibbs and Meyers Taylor. But they will eat together. They will talk together. They will continue a dynamic unlike any other on the American team.
So theirs is a journey unique on the American team. They share not only hotel lobby soup. They share not only dreams. They share anxiety and nerves and disappointments all of it.
Yet even with the wait and the anticipation of improving on her medal Meyers Taylor sits second in the World Cup standings behind Canadas Kaillie Humphries Meyers Taylor doesnt want to give up the sport after these Olympics. This would mean continuing an itinerant some would say downright unstable life with Taylor. Ask where the couple lives, and the answer starts as, Well, Phoenix for a while. It includes shacking up at training centers. And it ends with: out of suitcases.
This would be Meyers Taylors pursuit of a gold medal in bobsled, which is a realistic possibility given she won bronze in 2010 as a push athlete, then drove her sled to silver four years ago in the Sochi Games, and has since won two golds at world championships. Now she is off to South Korea as a favorite to win the whole thing, in some ways a natural progression for an athlete who is closer to the end of her career than the beginning, but still undeniably in her prime.
Being so involved in each others results, it brings a heightened sense of calm and a heightened sense of chaos into every single situation, Taylor said as his wife started in on her soup. Because you can help so much leading into something. Ill help you build the parachutes. Ill help you polish your runners. Ill help you wax your sled. We can talk about push technique. We can talk about driving. That all brings a ton of confidence.
Elana Meyers Taylor shows off her silver medal from the 2014 Winter Olympics and her bronze from the 2010 Games. (Rick Bowmer/AP)
With that, half the team finished her soup, and the couple headed up a staircase, and toward PyeongChang, like they do most everything: together.
Barry Svrluga became a sports columnist for The Washington Post in December 2016. He arrived at The Post in 2003 to cover football and basketball at the University of Maryland and has covered the Washington Nationals, the Redskins, the Olympics and golf.
Interpretation of the news based on evidence, including data, as well as anticipating how events might unfold based on past events
Our specials today . . . Nic Taylor said, and he placed the saucer down in front of Elana Meyers Taylor. She looked up, and they both laughed.
The first time, youre just so much in awe, and everything is just the most amazing thing that ever happened, Meyers Taylor said. And now its like were moving into the Olympics with a mission.
As an alternate on one of three U.S. four-man sleds, Taylor will be able to travel to South Korea with the team, live in the Athletes Village and be around during training. The couple considers Taylors inclusion a victory. But the main goals belong to Meyers Taylor, a former softball player at George Washington who has, in a decades time, developed into one of the top bobsled drivers on the planet.
But if she returns in four years, might it be with a different program? This season, she did not attempt to qualify a sled in the four-man competition a discipline that is open to either gender so she could concentrate on her goals with Gibbs. But in 2022, when the Winter Games are held in China?