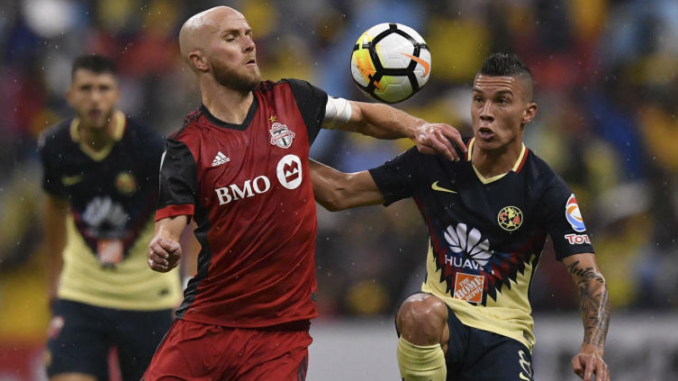 But this year, it may be different. This may be the first time since 2000 that an MLS team wins the Champions League of North America, Central America and the Caribbean.
The CONCACAF Champions League, for the longest time, has always felt like just an international club competition that a Mexican club would inevitably win. Since it was rebranded as the Champions League, renamed from the Champions Cup, only Mexican teams have won the regions premier international club tournament.
Toronto drew America at the iconic Estadio Azteca in Mexico City 1-1 on Tuesday night in a rain storm, moving through 4-2 on aggregate to advance to the final, where they will face Chivas. The New York Red Bulls lost to Chivas 1-0 in the other semifinal, but they were unlucky in doing so, recording 20 shots and nine on goal while failing to score in the second leg. An all-MLS final was there for the taking, but it didnt happen.
MLS has a team in the Champions League final and Toronto FC are actually favorites to win it
Toronto FC hopes to make history, change MLS fortune and will be the favorites when it attempts to end the drought.
Toronto will enter the final as really the clear favorite to win it all. They are the reigning MLS champs and have more than earned their spot in the final. On the way to the two-leg championship, Toronto eliminated arguably the most talented team in Mexico, Tigres, and then knocked off America. But beating three Mexican teams in a row to claim the title wont be easy.
Toronto FC has shut the mouths of a lot of doubters over the last year, and could be 180 minutes from the biggest prize in club history, while earning a spot at the 2018 FIFA Club World Cup if they take home the title.
For Toronto, U.S. Mens National Team star Jozy Altidore had to be substituted off after just seven minutes on Tuesday, so his status ahead of the final is a concern, but the team wont be short of confidence as it attempts to become the first MLS team in a long time to win the cup and the first Canadian club to ever do so.
Sebastian Giovinco has been spectacular with his free kicks, Michael Bradley had dictated the pace in the middle of the pitch and when you can grind out a result at Azteca like they did on Tuesday, anything can happen.
Barca will be without Messi, but it shouldnt matter against a third division side
On the other hand, Chivas is currently 15th out of 18 teams in Liga MX and have struggled in front of goal. In their last three matches, they have just one goal.