It appeared Khediras loss was Kramers gain when it came to the biggest international game of 2014. With Khedira injured in the warm-up prior to the 2014 final, Kramer was given a starting berth against Argentina. TheBorussia Mönchengladbachdefensive midfielders luck ran out in the games first half, however, when he collided with Ezequiel Garay and suffered a concussion, with Schrrle coming on as his replacement. Kramer joinedBayer Leverkusenin 2015 before returning to make a permanent move to Gladbach the following year. His last international cap came in 2016.
Count them: six substitute appearances at the 2014 finals, three goals and one unforgettable assist for Mario Götzes winner against Argentina in the final. Schrrle netted twice in Germanys historic 7-1 spanking of Brazil in the semi-final and opened the scoring in the aforementioned second round win against Algeria. A Chelsea player when the tournament kicked off, the 27-year-old subsequently moved toWolfsburgwhere he won the DFB Cup, a feat he later repeated at current side Dortmund. Although he has amassed 22 goals in 57 internationals, injury problems and a lack of form mean Schrrle is unlikely to feature in Russia.
Thomas Mller and Manuel Neuer celebrate in Berlin after Germany won the 2014 FIFA World Cup Brazil.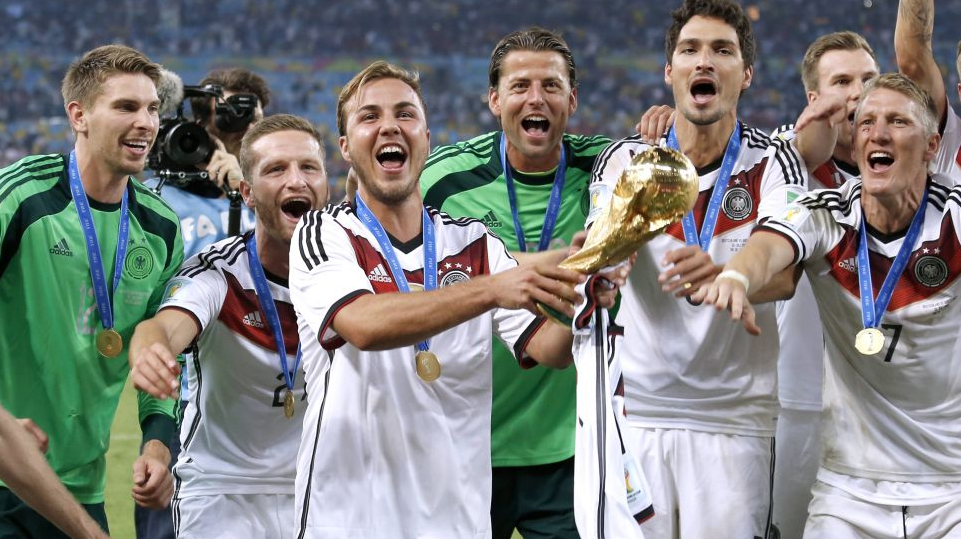 A Dortmund mainstay when the 2014 World Cup kicked-off,Hummelsscored two goals during Germanys run to success four years ago, including the quarter-final winner against France. Formed a strong central defensive bond with Jerome Boateng last time out and the pair should continue that all-Bayern partnership in Russia should the latter recover from injury. Hummels returned to Bayern from BVB in 2016 and has since won successive Bundesliga titles.
As one of coach Löws go-to midfield men, it would take an untimely injury to prevent the Juventus supremo from taking his place at the heart of Germanys team next month. It was just such a scenario that saw the ex-Stuttgart man miss the 2014 final win against Argentina, the 31-year-old sustaining a problem in the warm-up that forced him out of the showpiece. Enjoyed UEFA Champions League glory with Real Madrid prior to lifting the World Cup and is presently closing on a third consecutive Serie A/Coppa Italia double at Juventus.
Just beginning to realise his phenomenal potential atBorussia Dortmund, full-back Durm was rewarded with a place in the 2014 squad for Brazil. Debuting against Cameroon in a pre-World Cup friendly, the 25-year-old was an unused substitute at the finals but did collect four more caps in EURO 2016 qualifiers thereafter. Since then, the BVB player has suffered rotten luck on the injury front, with hip and ankle problems following two knee complaints. Having failed to play at all this season, Durm is out of contention for Russia.
Mller is still doing what he did before and during the 2014 World Cup: popping up and scoring all manner of unorthodox goals for Bayern.The forward recently brought up a century of Bundesliga goals, and has been a key part of the side that has won six straight top-flight titles. Scored five goals in Brazil – finishing second behindcurrent Bayern team-mate James Rodriguezin the golden-boot race – but, with ten overall strikes at World Cup finals tournaments, has his sights set on his former team-mate Kloses record of 16 in Russia.
Currently the FIFA World Cup all-time top scorer with 16 goals, Klose moved past Ronaldo in the standings by netting twice in 2014 in what was his fourth finals appearance. Retiring from the international game shortly after his nations win in Brazil, Germanys record scorer with 71 goals went on to complete five seasons with club side Lazio. The former Bayern Munich,Werder Bremenand Kaiserslautern striker is currently a member of Löws coaching staff.
With 2017/18 representing the 37-year-old goalkeepers 16th season at Dortmund, the time is approaching to hang up those faithful gloves. Yet when Weidenfeller does say goodbye he will have the memory of that unforgettable summer in Brazil to look back on. Although there as back-up to first-choice Neuer, the man who has made over 450 appearances and won two Bundesliga titles for BVB will nonetheless forever cherish the medal he collected as part of the winning Germany squad in 2014.
They went all the way to glory in Rio, a 23-man squad – includingManuel Neuer, Mesut Özil andThomas Mller- made up of youth, some experience and immense talent. Yet who made up the cast thattook Germany to their fourth FIFA World Cup win in Braziland where are they now?
The central defender played alongside Hummels for the opening four games of World Cup 2014 before Boateng was brought in from a wide position to start both the semi-final and the final. At 66, the ex-Hannoverand Werder Bremen colossus hung up his international boots after the tournament, with some 104 caps to reminisce upon. Is now in his seventh season at Arsenal, where he has been three times an FA Cup winner, and will take a role at the clubs academy this summer.
Clocked up 504 minutes at the heart of Germanys midfield in 2014, his sixth major senior finals with his country. A return to his native Bavaria following the tournament brought a record-equalling eighth Bundesliga title while the 33-year-old even briefly captained Germany following Philipp Lahms international retirement. Schweinsteiger made a brief stop at Manchester United – where he made 18 Premier League appearances – before landing at Chicago Fire in the MLS. Set to return to the Allianz Arena in the summer for a testimonial between Bayern and his current side.
Another former Dortmund man, Ginter was aFreiburgplayer when he was called into Joachim Löws finals squad. At 20, the currentBorussia Mönchengladbachcentre-back was the youngest player in Germanys set-up but didnt make an appearance at the tournament. Having featured prominently inDie Mannschafts FIFA Confederations Cup triumph last summer, Ginter seems certain to be on Germanys plane to Russia.
Stuttgarts shot stopper supreme travelled to his second major finals as Germanys third-choice keeper back in 2014, following up his inclusion in the UEFA EURO 2012 squad. A former Manchester United youth player, the Cologne-born Zieler became the 50th debutant under Löw in a 2011 and has since amassed six international caps. Spent six solid seasons at Hannover before a fling with Leicester City in England. Its highly improbable that Zieler will travel with the holders this time around.
Came into the World Cup as a burgeoning midfield schemer and left as a bona-fide global star.Kroos, who enjoyed a loan spell atBayer Leverkusenfrom Bayern in 2009/10, had a fantastic tournament in central midfield in Brazil, starting every game and scoring twice in the 7-1 win against Brazil. Left Bayern following the tournament for Real Madrid, where he has since won the European Cup twice and the Spanish Liga.
An often controversial figure during the end of hisBorussia Dortmunddays, Großkreutz went into the 2014 finals as a double Bundesliga winner and UEFA Champions League finalist. Immensely versatile, the winger/full-back made six senior international appearances during his career, but failed to get any playing time in Brazil. A spell atStuttgartpreceded a move to current second-tier strugglers Darmstadt.
Show the world you are better than Messi, Löw told Götze before sending him into the 2014 World Cup final two minutes before the end of normal time. In the 113th minute, Super Mario netted the winning goal that brought Germany a fourth world crown. Only 22 then, Götze made the switch from Dortmund to Pep Guardiolas Bayern soon afterward. Following three somewhat frustrating seasons in Bavaria, he returned to Dortmund where a metabolic illness and an ankle injury kept playing time down. Since back to his best, is crossing his fingers for Russia.
Watch:Check out Neuers top five Bundesliga saves!
Featured in every match and boasted a pass completion rate of 86.9 per cent en route to Germanys fourth FIFA World Cup triumph, even registering a goal in extra time as Germany defeated Algeria to reach the quarter finals. The formerSchalkeandWerder Bremenschemer is rapidly approaching a century of international appearances and as the current king of the assists at Arsenal, will be expecting to feature prominently for his country during the Russia spectacular.
Watch:Enjoy Mllers first 100 Bundesliga goals in all their glory!
On a roll of honour that read Fritz Walter (1954), Franz Beckenbauer (1974) and Lothar Matthäus (1990), the namePhilipp Lahmwas added in 2014. The Bayern great raised the trophy as captain of his country, just like those legendary players did before him. Lahm completed the most passes at the last World Cup, his tally standing at an immense 562, while his two assists in the semi-final win against Brazil added even more gloss. Retired from the game last year following 500 games and 21 titles and is currently an ambassador for Germanys UEFA EURO 2024 bid.
Like Ginter,Draxler was just 20 when he joined upwith Germanys conquering squad four years ago. Came on a substitute as the eventual winners destroyed Brazil in the semi-final while was an unused sub in the showpiece against Argentina five days later. A Schalke man then, Draxler moved on to Wolfsburg before joining Paris Saint-Germain. Played a big part in his nations EURO 2016 semi-final run as well as the Confederations Cup triumph last year. After scoring three times and assisting twice in eight qualifiers, he will be very much a part of Löws plans in Russia.
Now 30, the formerSchalkefavourite Höwedes is plying his trade at Juventus. Despite a series of injuries drastically limiting the defenders number of appearances in Italy this term, hes expressed his hopes of making it to Russia. Playing at left-back in Brazil, Höwedes was one of four players to feature in every minute of Germanys FIFA World Cup triumph, even providing an assist for the goal that saw Miroslav Klose match Ronaldos [Luis Nazario de Lima] record of 15 tournament strikes.
A scoring legend who, with 49 goals and 130 senior appearances, reached third in both categories on Germanys all-time records list before his international retirement. Played in the games against the USA and Portugal in 2014, having made it to the tournament as an Arsenal player. The formerCologneandBayern Munichforward later enjoyed stints at Inter Milan and Galatasaray before moving to Japan, where the 32-year-old now plays for Vissel Kobe.He recently returned to Cologne to open a kebab shop.
The finest goalkeeper on the planet not only lifted the FIFA World Cup in Rio, but he was also awarded the Golden Glove as the tournaments best custodian, making 25 saves and keeping four clean sheets at the finals. Now 32, TheBayern MunichandGermany captain is facing a race against time to be fit for Russia having spent most of this season sidelined with a foot injury.
Germanys Mr. Versatile at the finals, Boateng was used on the right of defence and at centre-back and was another of those who played a part in all seven matches, group stage to final. Now 29 and playing in his seventh season with Bayern, the Berliner is working hard on his recovery from an adductor injury sustained in this seasons UEFA Champions League, with coach Jupp Heynckes insisting the giant defender will be ready in time for Russia.
Now at Arsenal, Mustafi had just completed his second season at Sampdoria when he found out he had failed to make the cut from Löws 30-man squad to the final selection for the 2014 World Cup. An injury toMarco Reusopened the door for the current Arsenal defender, however, and he went on to feature three times in Brazil, before a thigh injury sustained in the round-of-16 win against Algeria ended his tournament. The 26-year-old Mustafi spent two seasons at Valencia before joining the Gunners and while he was part of Germanys winning team at the Confederations Cup last summer, is an outside bet to make the final 23 for Russia.