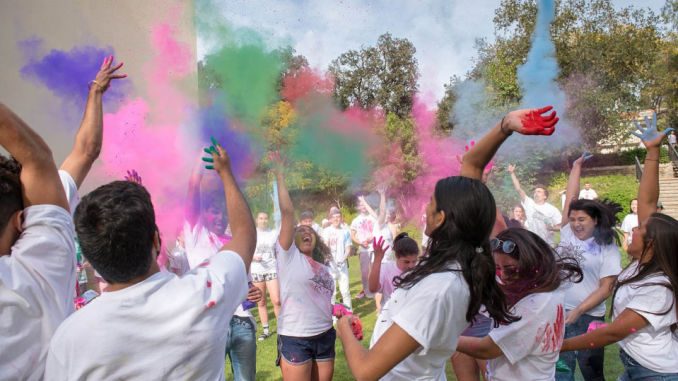 The mission of the BW Circus Club is to promote, educate, and teach the art of circus through workshops in various performance arts, weekly meetings and educational sessions.
The mission of Wordsmiths is to build an open community of creative writers dedicated to strengthening their craft through group discussion and critique, as well as mutual respect and support for each other in their growth as writers.
The dance team is an opportunity for talented BW students to dance, with opportunities to compete off campus and to perform at basketball games and other on and off-campus events.
The Baldwin Wallace University cheerleading program performs at all home football games and mens basketball games. The squads may also cheer at select away and post-season games.
The purpose of Art Attack is to attract and orient students to the areas of studio and visual arts and to facilitate knowledge in the field, which will be advantageous to future goals relating to a career in the visual arts or further study.
Ars Nova is a welcoming music theatre community that fosters the relationship between the professional theatrical community and Baldwin Wallace University pre-professional students through education provided by guest artists from the professional field.
Nu Rho Psi is open to students who are at least in their third semester of college; have completed at least nine semester hours of neuroscience-related courses; have an undergraduate cumulative GPA of at least 3.2; and have a minimum GPA of 3.5 in neuroscience courses.
ISA is an organization whose members express their love for the outdoors, whether it be hunting, fishing, camping, hiking or photography.
The purpose of TAP is to support student theatre artists and those interested in theatre on the Baldwin Wallace University campus, to inform students of events and opportunities in theatre, to maintain an open forum for student ideas and projects, and to raise awareness of theatrical events both on and off campus
Enactus, formerly known as SIFE, provides an opportunity for students to become familiar with the concepts of enterprise and to introduce them to the business community, both locally and globally.
MECC is an organization that brings together members of the BW community who have a background or an interest in Middle Eastern cultures. They sponsor social, cultural and educational activities on campus to promote awareness of the peoples and cultures of the Middle East.
Active Minds strives to increase students awareness of mental health issues and symptoms of mental illness, to serve as a liaison between students and mental health organizations in surrounding communities, and to provide educational resources and training to students. The group aims to reduce stigma that surrounds mental illness and create and open environment for discussion of mental health issues.
The mission of the Baldwin Wallace womens and mens rugby football clubs is to allow students to grow mentally by learning the game of rugby; to grow physically by playing the game of rugby; to become a part of the rugby family; and to learn and experience sisterhood/brotherhood, teamwork, competition and sportsmanship.
Newman Catholic Student Association is committed to helping students integrate faith and action into their daily lives through weekly mass, individual and community spiritual development, formation of personal leadership, small-group faith-sharing experiences, retreats and education for justice and community service.
The Executive Branch includes the student body president, student body vice president, student body treasurer and assistant student body treasurer. The student body president and vice president serve as liaisons between the student body and the University administration. The student body treasurer and assistant treasurer oversee the financial operations of Student Government, including the current budgets of all Student-Government-funded organizations.
This organization provides the opportunity for students to gain experience in, or exposure to, the criminal justice, sociology and/or forensic science fields.
This honor society is open to psychology majors and minors with second semester sophomore status who have completed at least nine semester hours of psychology courses; have at least a 3.4 overall GPA; and a GPA of at least 3.0 in psychology courses.
The Muslim Student Association seeks to engage members of the Baldwin Wallace community in exploring Islamic cultural heritage, history, values, diversity, and contributions to the world, and promote a deeper understanding of Islam and Muslims.
The BW student chapter of USITT is committed to strengthening the skills of our technical theatre students while carrying out the mission of the national organization. The United States Institute for Theatre Technology, Inc. connects performing arts design and technology communities to ensure a vibrant dialogue among practitioners, educators, and students.
Prospective inductees must have sociology as a declared major; an overall GPA of at least 3.3; a GPA in Sociology of at least 3.3; at least junior status and have completed at least five courses in Sociology.
The Mill, BWs annual literary and art magazine, showcases the creative achievements of student writers and artists across campus and across disciplines. The Mill accepts submissions of poetry, short stories, novel and drama excerpts, creative nonfiction, artwork and photography. As a student-directed and student-operated publication, The Mill reflects the distinct voices and expressions of BWs talented students and the hard work and dedication of its student staff.
Spanish club seeks to portray the cultures of Spanish-speaking countries to the BW community and to promote the use of the Spanish language.
The international film series hosts a yearly international film festival on campus. The organization works with the foreign languages and literature department and various cultural organizations on campus to show films representing a variety of cultures.
Class officers are from the senior, junior and sophomore classes. Senior class officers plan the annual, off-campus, senior-class end-of-the-year dinner/dance celebration. Junior class officers plan and organize the competition events for the annual April Reign Weekend, including a human pyramid, obstacle course, tricycle race and tug-o-war. Sophomore class officers plan several events for homecoming weekend. Events include the election of homecoming king and queen and Jacket prince and princess, a pep rally, a parade and a social activity. All class officers serve as student giving ambassadors on the student giving council (SGC), which strives to educate the BW student body on the importance of philanthropy and giving back, while also working to raise money for the YJ 4th Year scholarship which benefits current BW students in financial need.
The outdoor adventure club seeks to promote recreation and healthy living through a variety of outdoor activities including an annual whitewater rafting trip.