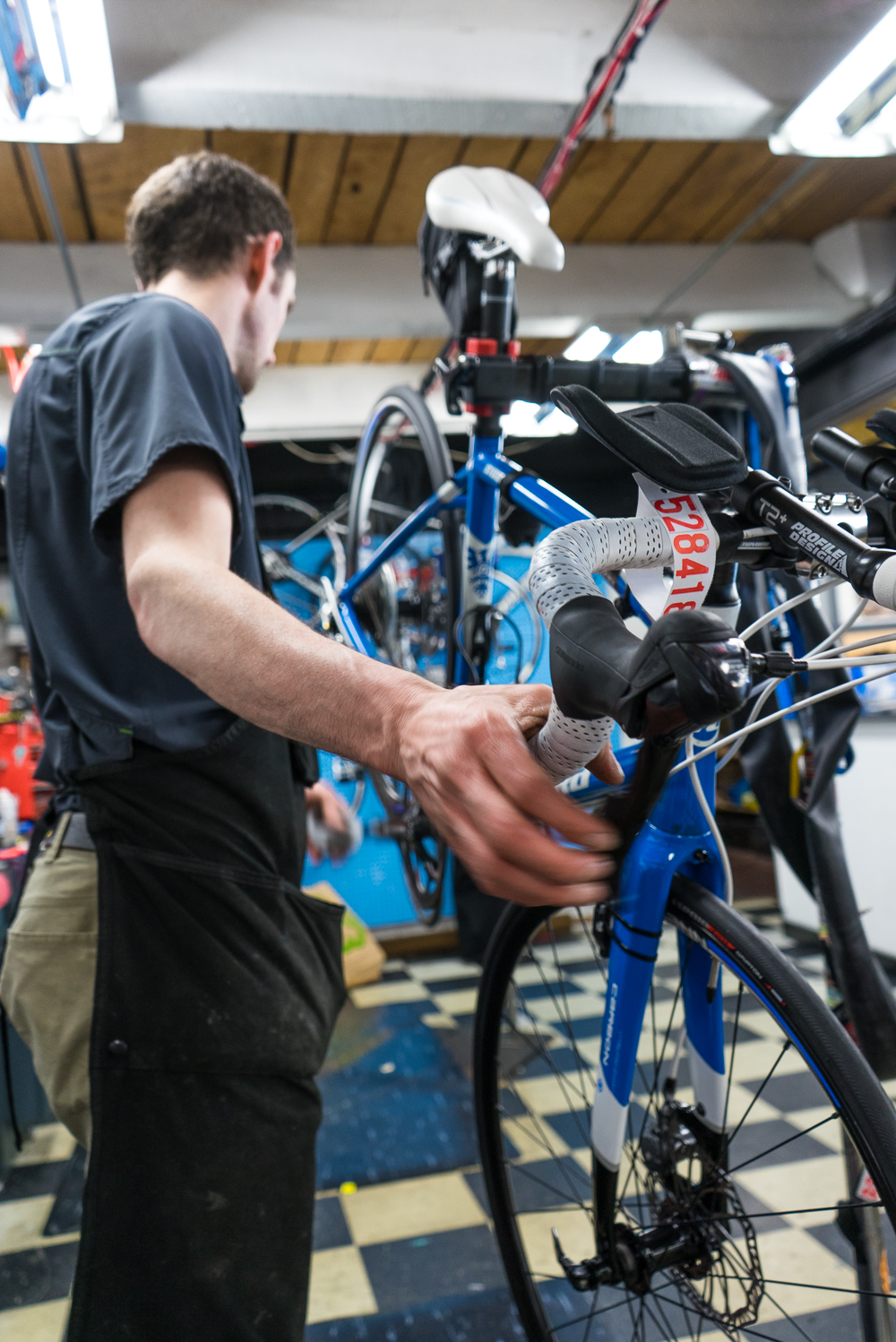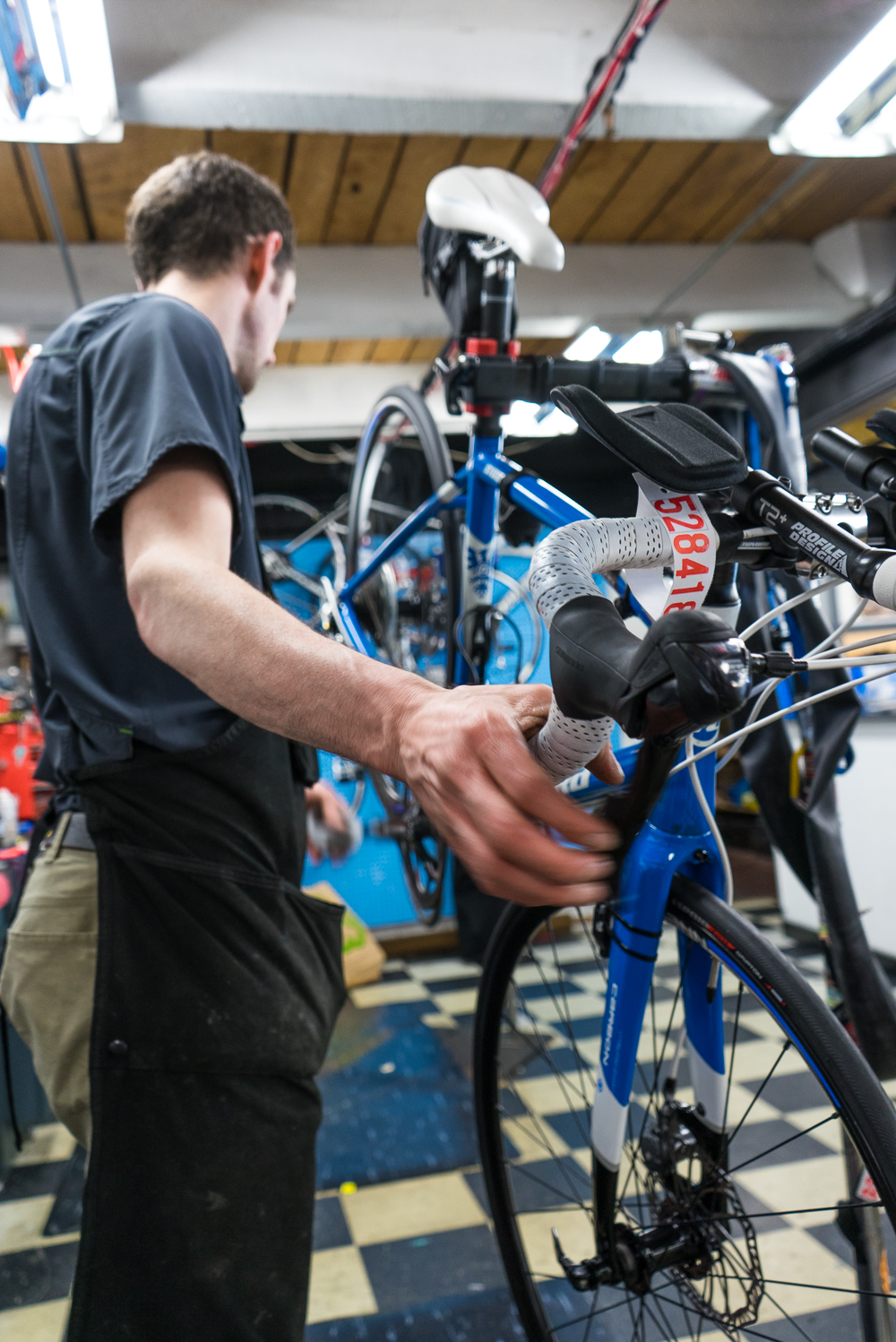 What will your next purchase be for this bike?
Put safety first without sacrificing your schedule and get the whole familys bikes tuned for spring. Our Outdoors Sports Center van can easily fit all of your familys bikes secured in the back.Check Out our Full Bike Service Rates.
As soon as you throw a leg over this majestic steed, youre bound to get weird. It has full frontal & rear air suspension which means its tunable, which is nice. I love the aluminum spokes too. Its a weird combination in that its a 26 whereas most new downhill bikes are 27.5, but I personally enjoy it.
Nothing. This bike is perfect. The next purchase of mine would be a new bike altogether if this thing ever failed (which it wont).
What will be your next purchase for this bike?
What hand signals do I need to know?
I built it in September of 2014 and have put about 500 miles on it.
Please join ourFacebook groupto receive all of our Group Ride updates. We encourage everyone to RSVP to our Facebook invitations for the Sunday morning rides so that we can have an idea of how many people will be joining us.
The entire bike is custom; I bought the frame with the fork and added every other piece, all from different brands. The most significant of these components are the handlebars, the cranks, the 29-inch I9 wheels, and the SRAM X11 drivetrain.
The fat tires have an unbelievable amount of grip. They make this thing unstoppable in any weather, not to mention really fun to ride.
How can I make myself presentable before the work day begins?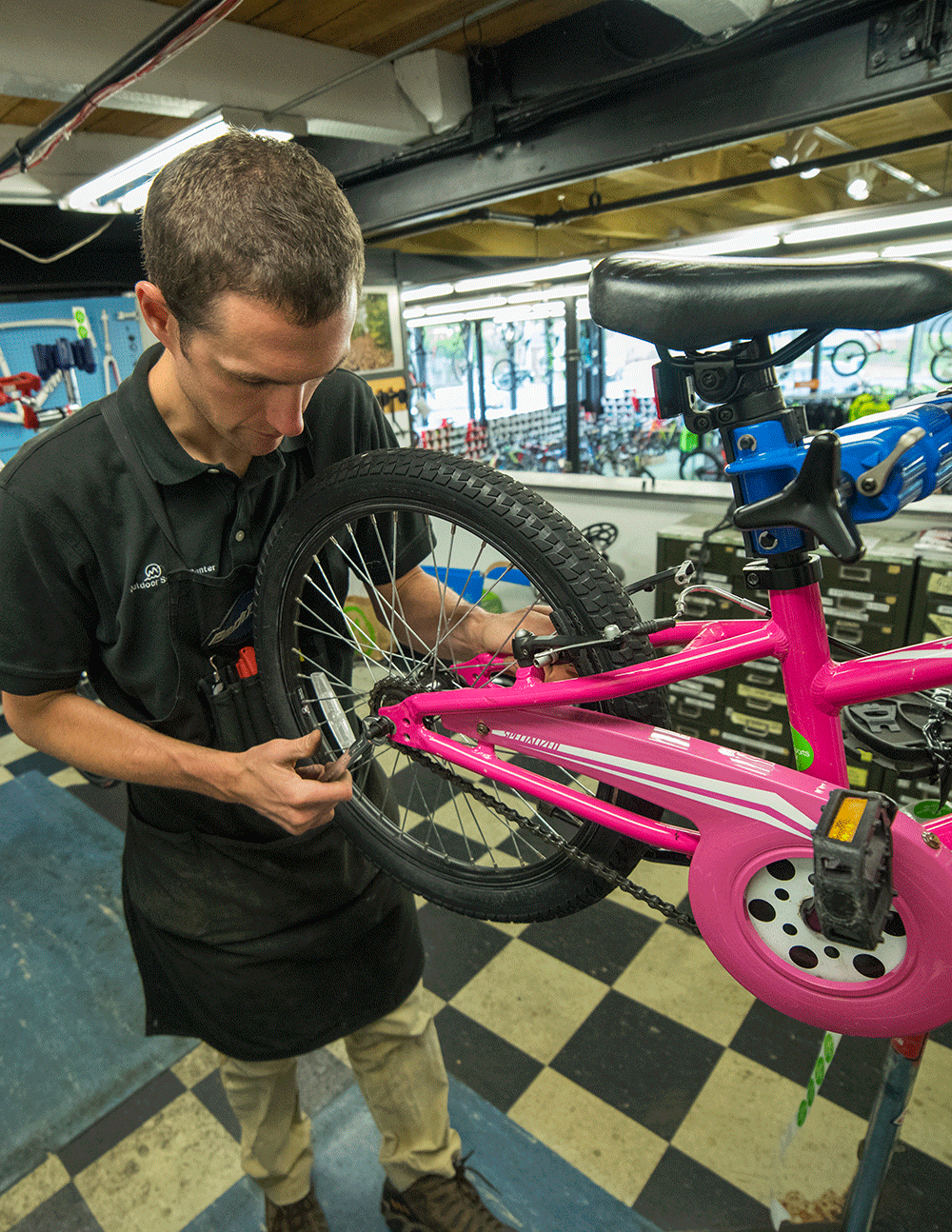 Narrow it down to the essentials by planning ahead the day before you ride and leave a change of clothes at work, with your toiletry bag and an extra pair of shoes. Remember to bring plenty of water, and stay safe with a helmet, a GPS, sunscreen, sunglasses to block bugs, and biking gloves. If you still need to bring your lunch and paperwork we recommend a backpack that is sturdy, and clips over your chest to prevent slipping down. For the ladies, try not to carry a purse while riding, because they can easily throw off your balance and cause distractions.
What will your next purchase be for this bike?
When did you get this bike and how many miles have you ridden?
This thing was built to last for sure. I bought it back in 2015 and have put at least 100 miles on it, if not more. Im just glad we have great guys in our bike shop to work on it, too.
What will your next purchase be for this bike?
I dont spend a ton of time working on my bike but I definitely take care of it for the amount of riding hours and miles I put on it.
My favorite spot is definitely Farrington Woods in Danbury, CT.
How long have you had this bike and how many miles have you ridden?
How much time do you spend working on your bike?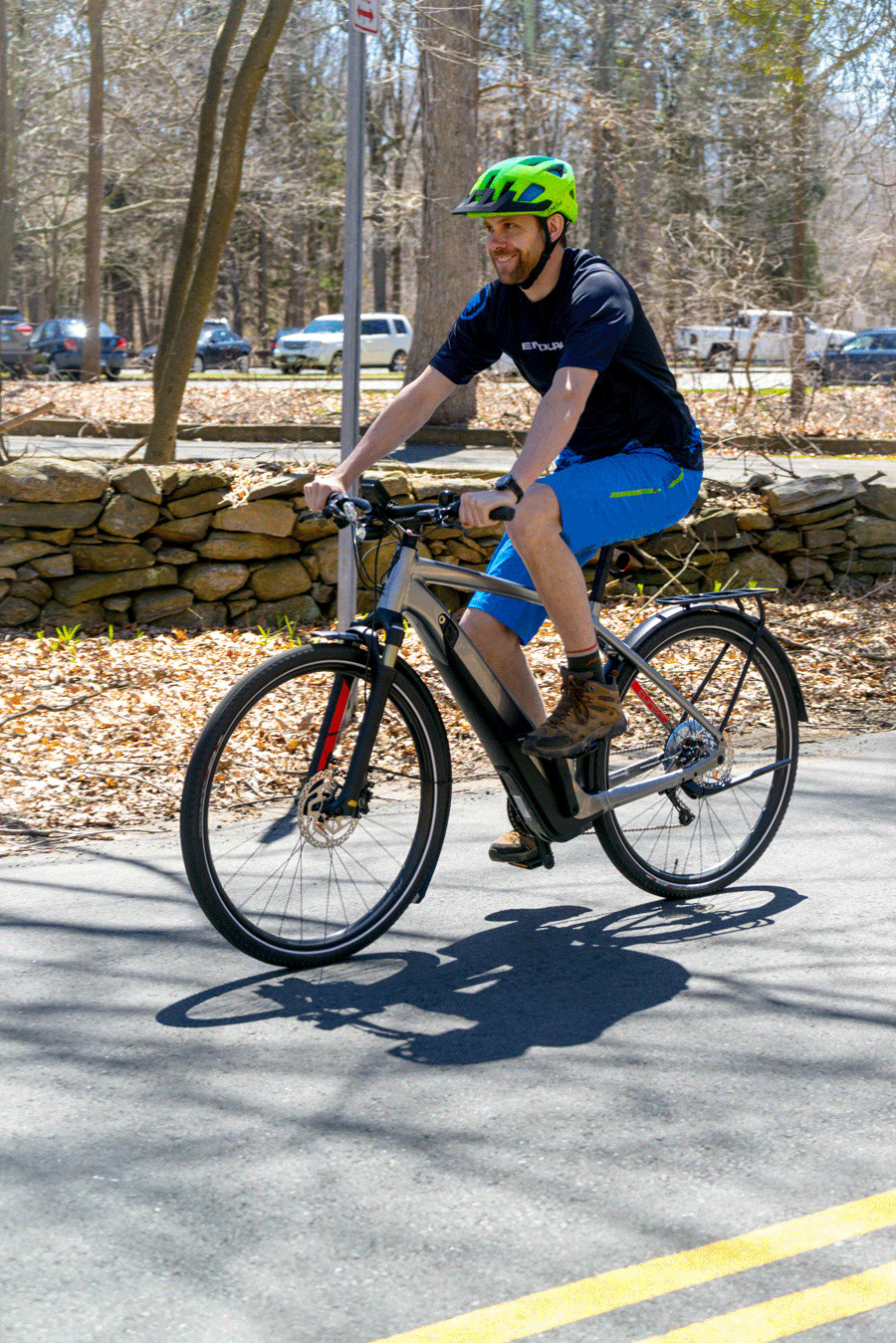 The club schedules social activities throughout the year and regularly hosts clinics that feature speakers from cycling and sports-related professions. More than 30 bike shops in the tri-state area offer free bike safety check-ups and a range of discounted prices to members.
So far, the seatpost, brakes, drive train, handlebar, and stem are all custom. Theyre all working out really well for me thus far.
I usually have the shop guys work on it for me. They really know what theyre doing.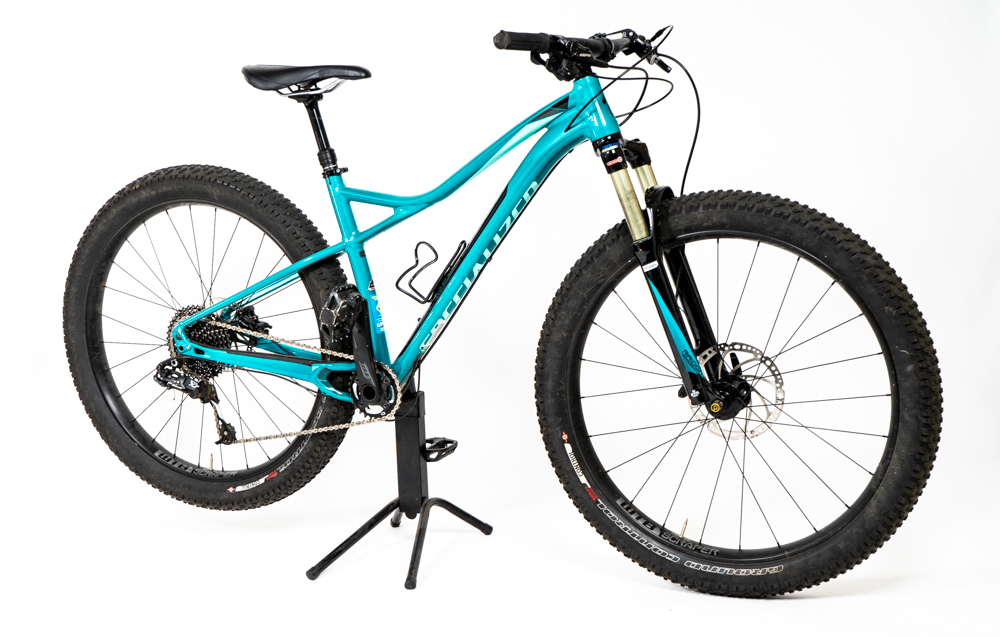 The full suspension is great; FSR is Specializeds patented full suspension system. It has 29-inch wheels which help the bike keep its speed up.
I spend about an hour every two weeks making minor adjustments and tuning.
The Wilton Town Forest is my favorite local spot, but overall, Highland Mountain in New Hampshire.
The drive train and the brakes are both custom.
1. If you cant remember the last time you did it.You should get your bike tuned yearly, even if it sat in the garage all season or if you were riding it every day. The last thing you want is to go for your first ride of the season and find out parts are misaligned, tires are flat, or worse, your brakes arent working.
I got it 3 years ago and Id say Ive ridden every two weeks for trips so Ive definitely racked up a good amount of miles on it.
How much time do you spend working on your bike?
May 12-18th is Bike to Work Week, ending on National Bike to Work Day, Friday the 18th. Were all for ditching the car to get out and pump our pedals, so Outdoor Sports Center employees have pledged to ride a total of NN miles on Bike to Work Day.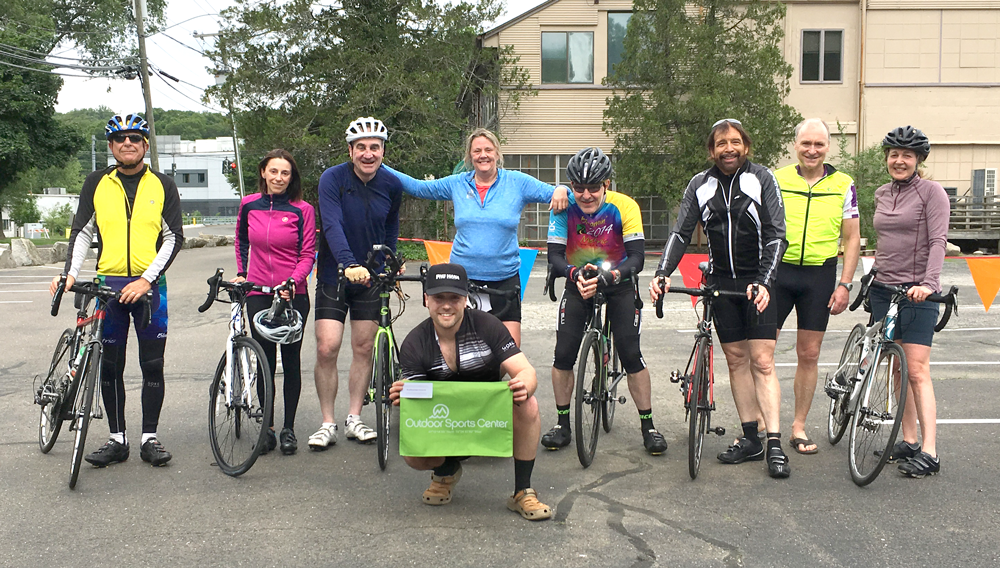 How much time do you spend working on your bike?
If your bike is taking a long time to shift between gears, your front or rear derailleurs could be out of alignment. Your shifting cables could be stretched too. Our mechanics will determine the exact cause and consult with you before they replace any parts that might cost extra.
I like the 3 inch tires because I can run a lower tire pressure and basically ride over anything. I also just started playing around with using the dropper post. Im happy that the guys in the bike shop convinced me to spend the extra dough, because it really makes a difference in balance and technique. It allows me to lean back and center myself while going downhill.
Let us take the hassle out of bike repairs. Schedule a time for us to pick up your bike right from your home for a faster and more convenient service than ever before. The best part is our pick-up service comes to you at no additional cost. Call today to book an appointment.
I got it in April of 2014 and have put a whopping 700 miles on it so far. If I keep up my maintenance it will be many more.
I work on my bike once a week, washing it and doing maintenance so it lasts as long as possible.
Accessories. While its not necessarily for the bike itself, I definitely want a hydration pack so I can carry tools, and nutrition on the trails. I also would like a new helmet.
Our bike shop staff is a team of dedicated experts who can help you find the perfect mountain bike for your style of riding. We sell top brand mountain bikes, from cyclocross to park bikes and everything in between. Our mechanics can help you customize your bike any way you want, and are always here whenever you need a tune-up or a repair.
Our pick-up service is avaialble in Wilton, Ridgefield, Redding, Weston, Westport, Norwalk, New Canaan, Lewisboro and Pound Ridge. Not sure if you fall in our service area? Give us a call at(203) 762-8797
4. Strange reoccurring noises from the wheels.This could be your wheel coming out of alignment and make braking uneven. In some cases a strange noise can be solved by truing the wheels, which is included in our tune.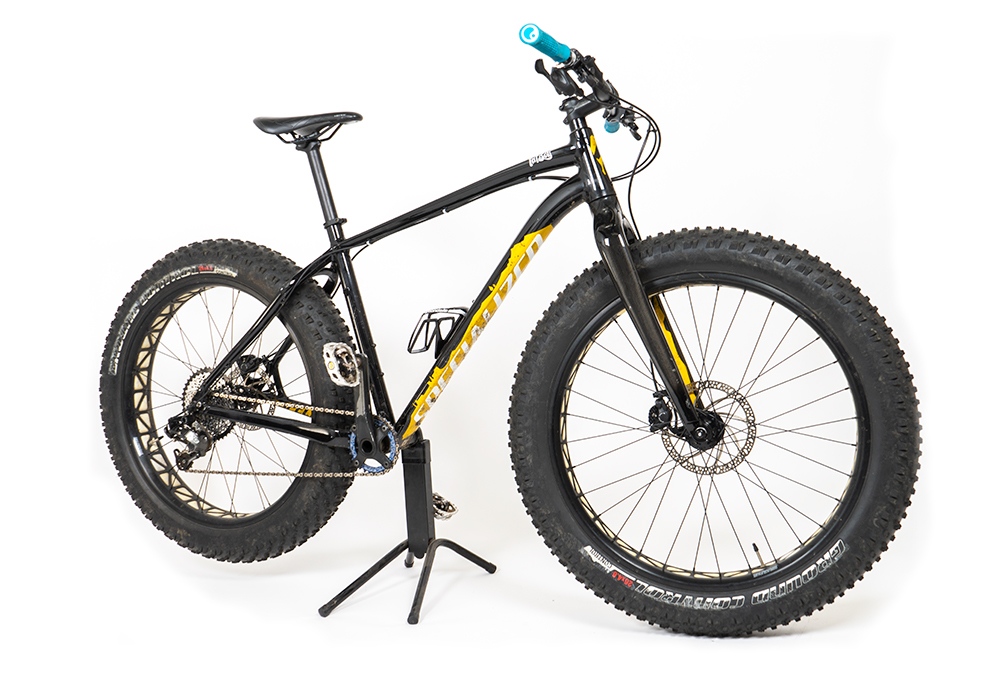 div data-cycle-fx=scrollHorz data-cycle-speed=500 data-cycle-timeout=7000 data-cycle-swipe=false data-cycle-prev=.cycle-prev data-cycle-next=.cycle-next
How long have you had this bike and how many miles have you ridden?
The best bet is to leave extra time in the morning to allow your heart rate to lower, so you can cool down and then freshen up. Lucky for you there are tons of products that allow you to skip the shower and still look and smell presentable. We recommend keeping body wipes, deodorant, dry shampoo and extra socks at the office for just this! Dont forget to stretch, to prevent sore muscles and help your body recover.
Getting your bike tuned is absolutely necessary if you want it to perform as safely and efficiently as possible. We created a short 2-minute video that explains how we tune your bike and why the process is so important. Not sure if you need a tune-up? Weve put together a list offour telltale signs that your bike needs some love, below:
How long have you had this bike and how many miles have you ridden?
The more visible you are on the road, the safer youll be. By law, you are required to have a light on your bike after sundown. We suggest a blinking light on both the front and back of your bike. It is also just as important to wear reflective gear, on your helmet or jacket.
I got it in November of 2014, and Ive ridden hundreds of runs, and have ridden countless miles and hours on it.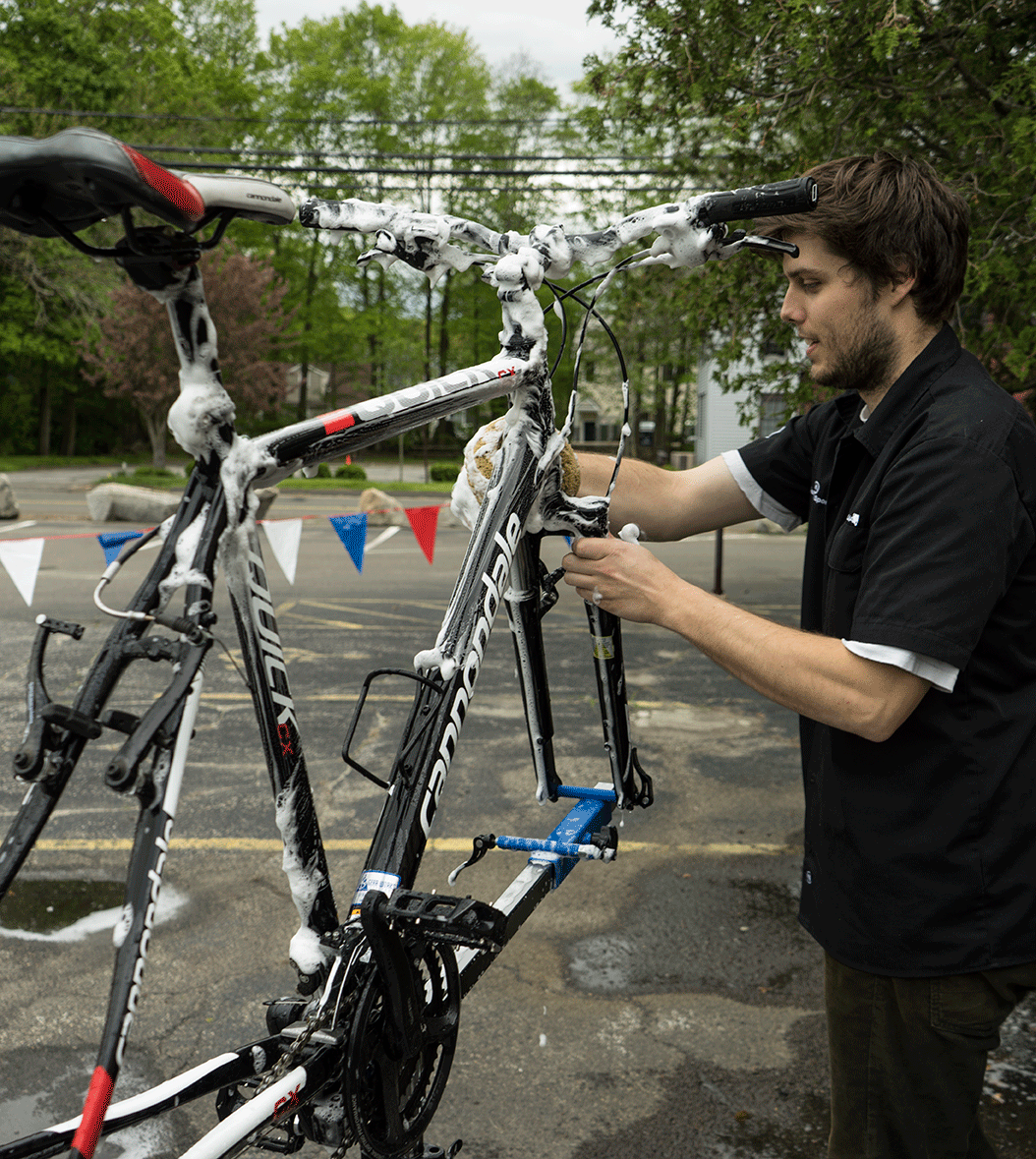 Sound Cyclists hosts the very popularBloomin Metric®every Spring, a premier cycling event offering rides from 15 to 60 miles that draws riders from near and far. This years event was held May 20 and once again received rave reviews from participants.
In addition to being a community of cyclists that share a passion for cycling, Sound Cyclists is an advocate of safe cycling in Fairfield County and the State of Connecticut and actively supports cycling and related charitable activities in the area.
I spend about a half hour a week cleaning, tuning, and making minor adjustments. I ride a few times a week so I always try to make all the necessary adjustments to keep it in good shape for the next ride.
Weve zeroed in on a few of our most avid mountain bikers here at the store to learn more about their most prized possession: their bikes. Read on to find out what styles they ride, what custom pieces are they love the most, and their favorite parks and trails.
Right now the plan is to get a Dropper Post at some point for the bike.
Our Bike Shop sits in a separate building on the south end of the property. We stock a huge variety of bicycles for just about every type of rider; we build everything from completely custom race bikes to you childs first two-wheeler. Our service department offers a complete menu of maintenance and tuning services, all performed by certified and expert mechanics. Whether it is road riding, mountain biking, or bike commuting, we are the shop that has it all. Come visit us today!
Always use your left hand when signaling to cars when you are making a turn. Holding your left arm out straight means you are turning left, and holding your hand up with your elbow bent 90 degrees means you are turning right. When coming to a stop, hold your left hand down with your elbow bent 90 degrees.
I got studded pedals, but nothing else yet.
Its a great all-around bike that can do anything and go anywhere. It has a dropper seat post with a trigger to adjust the seat while you ride, so you can adjust for uphill or downhill riding. Its got a carbon frame, making it super light – only 26 pounds.
How can I carry everything I need for the day?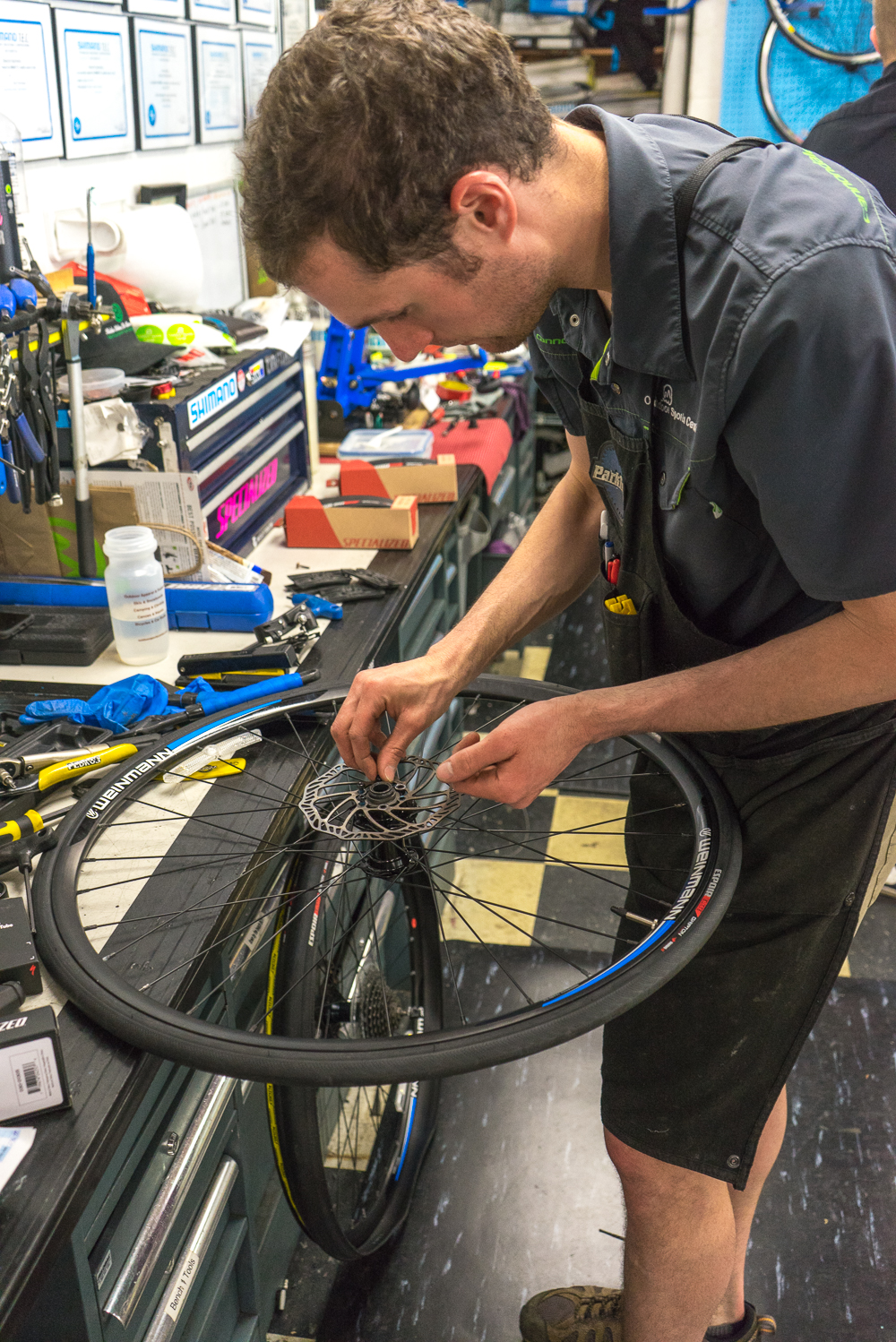 To help you have a safe commute, weve put together5 helpful tipsfor Bike to Work Day below.
C ~20mi 13-14mph led by Kevin Stefani
Weve teamed up with SoundCyclists Bicycle Club to offerFREEweekly Sunday rides starting June 10th led by staff and friends to introduce riders to the store and to the club. These rides will leave from the store parking lot. Its open to the public, but place yourself in an applicable ride group. Once you get the swing of things, you should join theSoundCyclistsBicycle Club to get access to other hundreds of group rides and routes, maps, and directions.
We know life gets busy, so let us pick up your bike right from your home to make bike tune ups and repairs, hassle free. Our certified bike mechanics will diagnose your bicycle at the shop and call you with a quote. Once you have approved the quote, they will fix your bike and let you know when its ready. Our van pick up is operating during regular business hours MondayFriday 10 am to 6 pm.
It goes without saying that you should always wear a helmet! Other than that, alert your co-workers the day before that you will be biking to work, so they know where you are. On the off chance that anything should happen, it is also a good idea to wear a Roadrunner ID bracelet. Listening to your headphones while biking can be dangerous, but if you want to listen to music or your GPS, keep the volume low and only use one earbud.
How much time do you spend working on your bike?
If youre looking to join the cause and dont have a bike or your commute is long, consider checking out an E-Bike, like theSpecialized Turbo Vado 6.0. It has 3 boost settings, meaning itll make your commute a breeze and get you to the office on time. Built-in powerful headlights in the front and rear means cars will be able to see you on the road even if you have late nights at the office.Whether youre riding through the trail or on the road, the Turbo Vado 6.0 can conquer both. Plus, climbing a dreaded hill is a breeze with its assisted pedaling.
How much time do you spend working on your bike?
What if I have to ride home in the dark?
What will be your next purchase for this bike?
C+ ~21mi 14-16mph led by Ed Benision
Right now I like it how it is, but things can always be improved.
B- ~30mi 16-17mph led by Craig Wittmann
2. If you feel your brakes getting sticky.Sticky brakes happen when the brake lever doesnt spring back to its original position after you depress it. Disc and padded brakes can wear differently, but regardless, all brakes must have well-lubricated parts to prevent lag and maximize safety. Your pad brakes might wear down quicker, but theyll be cheaper to replace.
Everything on this bike is custom. I started with just the frame and went from there. Some interesting things about it are while most downhill bikes come with a 1×9 drivetrain, I put a 1×10 on mine.
How long have you had this bike and how many runs have you done?